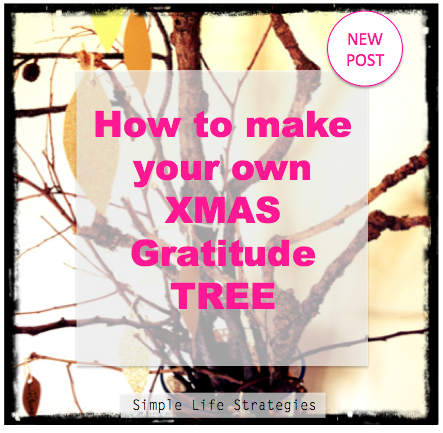 As we get closer to Xmas I find there's a tendency to start feeling like we're running out of time and the year is almost up. We then switch to pondering all those things that we didn't get done, all those dreams that passed us by and generally everything that we didn't achieve throughout the year.
The crazy thing is – this is ultimately negative thinking in action! And yet we all do it! Why are we not thinking of everything that went right in 2013? Everything that we did achieve? All those amazing moments where we had fun and laughed and cried and ticked things off our bucket lists!
Today I'd like to turn December on it's head and spend the next 12 days appreciating and being grateful for 2013 and everything that it brought into my life.
Celebrate 2013 with your own xmas gratitude tree
Sometimes, it's nice to take thoughts and feelings of graititude out of our heads and onto paper. This reinforces those feelings and makes them more tangible; more real. What better way to celebrate 2013 than to sit back and remember those moments that truly made you smile, those moments of pure happiness and those moments where you really made a difference to your life.
Today I'm going to take those moments and show you how to use them to create a gratitude tree so that you can remember just how great 2013 was for you before it's all over!
Simple
Life

Strategy: How to Make Your Own Gratitude Tree

Things you'll need:
* Colored card
* Pen
* Branches
* Vase / bucket
* Hole punch
* String
* Pencil
* Eraser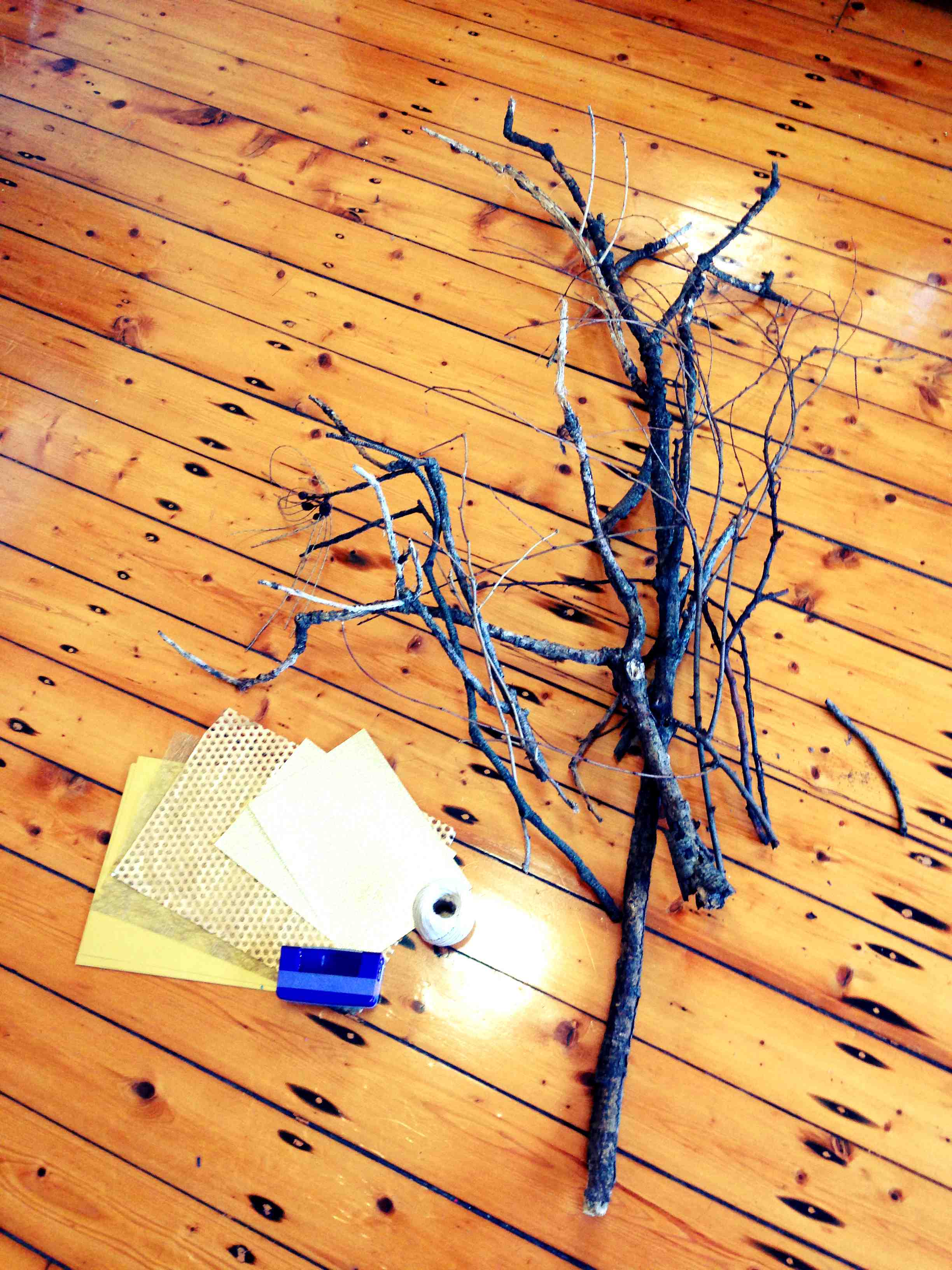 Step One: Gather some branches from your garden or local park and arrange them into a vase or a bucket or some sort. The sticks I found were all quite large, but I decided they worked well in a tall glass vase. My kitty cat peaches was keen to help 🙂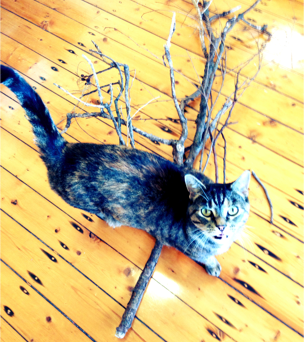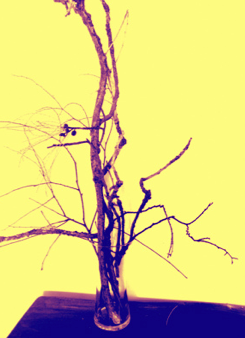 Step Two: Spend some time remembering your 12 most memorable moments from 2013. Don't worry if nothing comes immediately – it can take time to switch our thinking from negative to positive! Ask yourself these questions to help you get started:
* What am I proud of from 2013?
* How can I celebrate my friends and families successes? What did they achieve that gave me joy?
* Who really made me smile and why?
* What did I achieve from my bucket list?
* What was I praised for at work?
* What did I accomplish with my health & fitness?
* What hobbies did I learn or excel in?
* How have I made myself a better person?
* Where did I travel and what did I see that inspired me?
* What did I learn? What courses did I complete?
Start to note down your top 12 answers. If you're stuck, I'll be posting my 12 most memorable moments on the Simple Life Strategies Facebook page over the next 12 days, so stay tuned for some inspiration. Make sure you like the page to get these updates:

Step Three: Using a pencil draw a rough outline of a leaf shape on one of your pieces of card. I chose a christmassy theme of gold and have a few different types of gold card – some glittery and some just plain gold to mix things up a bit. Now cut out your leaf (and use your eraser to rub out any pencil outline marks).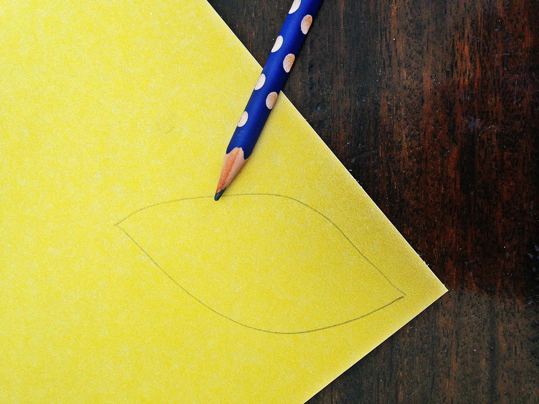 Step Four: Using your hole punch, carefully add a hole in the top right corner of your leaf.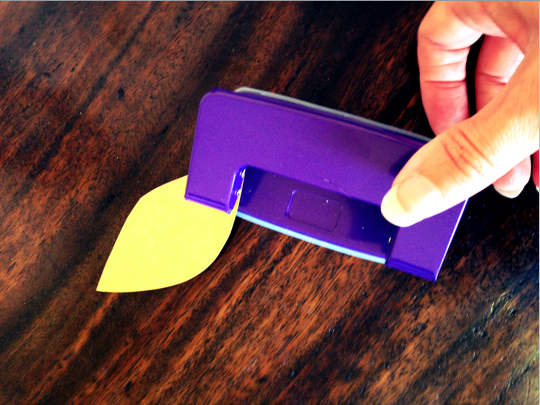 Step Five: Write your moment of gratitude onto your leaf! Remember this can either be an accomplishment or a simple memory of something you enjoyed in 2013. Also don't forget to celebrate other people's successes by adding in your friends or families achievements too.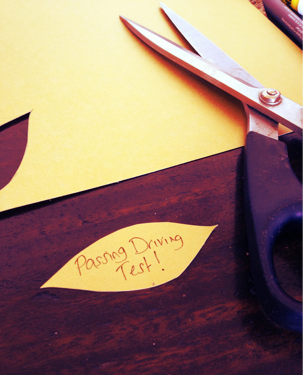 Step Six: Cut a piece of string and thread it through the hole and tie a knot. Trim any loose ends.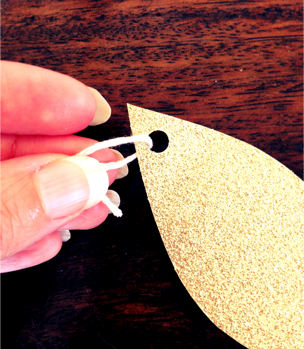 Step Seven: Find an awesome spot on your tree to hang your leaf moment! Now go through the same process with your remaining 11 leaves.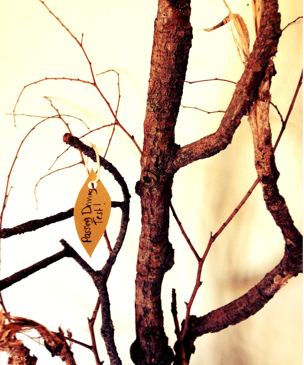 And here's how my tree looks now I've finished all of the leaves! Cute huh?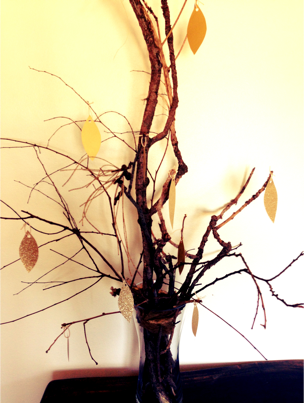 WIN ONE OF FIVE LESS STRESS COURSES (RRP $119)
I'm going to be giving away X5 copies of my LESS STRESS course (RRP $119) for those of you who join in on the gratitude tree fun & games. It's a great exercise to do and it's really quite surprising how gratifying it is to stop for a moment and celebrate life! If you don't have time to create the whole tree, I'd still recommend taking some time to stop and think about your personal highlights from 2013. By the way – you don't have to create the whole tree for your chance to win in the competition.
How to Enter:
1. Simply like Simple Life Strategies on Facebook:

2. Check out my outstanding moments from 2013 each day over the next 12 days! I will reveal a new leaf each day on the Simple Life Strategies Facebook page.
3. At the end of the 12 days, I'd love you to post just one thing that you are celebrating from 2013 on the Simple Life Strategies Facebook page. Out of everyone who posts, I'll select five winners who will each receive a free copy of the LESS STRESS course. Remember to keep checking the Facebook page as I'll notify the winners here.
If you know someone who would love to make their own gratitude tree or enter the competition, share this post with them!
More Simple Life Strategies:
—-
Terms & Conditions: Promotion starts at 10am AEST Friday 6th December 2013 and closes on Friday 20th December 2013 at 12:00 mid-day AEST. To enter participants must answer the following question on the Simple Life Strategies Facebook page: "In 25 words or less tell me what you are celebrating from 2013?". Answers will be judged purely on creative merit  by Zoe B on Friday 20th December 2013 at 2pm AEST (this is a game of skill promotion, there is no element of chance in this competition). 5 Winners will be selected and will receive one copy of the Simple Life Strategies LESS STRESS course (RRP $119) via email. Winners will be notified via the Simple Life Strategies Facebook page only and must submit their email address to zoe@simplelifestrategies.com in order to claim their prize.
Join 108,000 beautiful souls on the Simple Life Strategies Facebook page to get access to articles before anyone else!