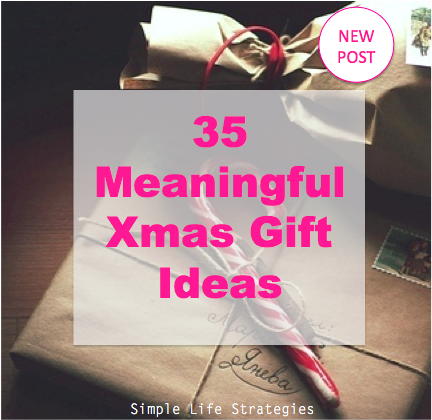 I don't know about you, but over the years I have received alot of really naff Xmas gifts. I don't mean to sound ungrateful, and I don't mean anything by it but I'm just being honest. Sometimes I get a bit riled about the commercial nature of Xmas. It feels like we get a bit lost and end up focussing on dollars spent on gifts and other things that in the grand scheme of life don't matter at all.
I've lost count of the amount of times I've been given chocolates when I'm on a health kick, or a TV series, when my goal is to spend less time watching TV. The point is – each year we all receive gifts that are not always in our best interests.
Instead of handing over gifts that might not align with someones best intentions, wouldn't it be nice to give presents that you know will actually positively impact the life of the recipient? Instead of meaningless gifts that are grabbed last minute in a rush, how good would it be to spend your hard earned money safe in the knowledge that it will really add meaning to someone's life?
In the nature of supporting my little rant, I have put together a list of 20 Xmas gift ideas that might just add some meaning to those around you.
Simple
Life

Strategy: 35 Meaningful Xmas Gift Ideas

1. Journal. A diary or a journal is a great gift because it's the kind of thing we don't think to buy ourselves, yet if someone buys it for us, we are more likely to go ahead and use it. Journalling is a great way to relieve stress, manage emotions and to become more self aware.

2. Healthy recipes book. A health conscious cook book could be the perfect gift for friends and family who are keen to be more healthy in 2014. Show them you support their goals with this proactive gift.

3. An experience or trip. It's always so nice to give a gift that you can enjoy together. These gifts often create lasting memories that you can cherish forever.

4. One on one fitness session. Either a personal trainer or a one on one yoga or pilates class is a great way to help your loved ones get fit in the new year.

5. Massage. Relaxation is definitely a gift worth giving! Surprise your busiest friend with this treat and they will have no choice but to relax!

6. Hand made, fair trade gifts. Give back to the local community by sourcing fair trade goodies.

7. Picture frame & photograph. Capture your favorite memory of you and your friends or family with a framed photograph of you together.

8. Language classes. If you know someone who has always wanted to learn Spanish – help them fulfill their dream! Start them off with a language class or a book with an audio recording.

9. Charity donation. Give the friend who has everything a charity donation. This is a much better use of money than buying them something you know they won't use.

10. LESS STRESS course. If you know someone who suffers from stress, you could help them start 2014 in peace with the Simple Life Strategies Stress course.

11. Music Gig. Get your friends or family a ticket to see their favourite band or DJ. Just make sure you do your research first!

12. Sponsor a child. It can be a wonderful gesture to sponsor a child from a third world country on behalf of a friend or family member. World Vision offer some great options.

13. Get creative. Get your craft on and make something for your loved ones. Making a gift yourself gives it a real personal touch.

14. Essential oils set (& burner). Help a friend to balance their emotions with an essential oils set (and get the house smelling great at the same time).

15. Hobby class. If you know your friend has always wanted to learn how to cook, or play golf, why not support them with a class to get them started?

16. Adventure gift. Think skydive, pilot lesson or bungee jump! Often people have extreme sports items on their 'bucket lists' – help them tick off one more item this Xmas!

17. Organic hamper. Instead of buying unhealthy food like chocolates, biscuits or cakes, purchase an organic foods hamper from your local famers market.

18.Relaxing scented candle. Help provide some extra relaxation for friends and family members with an indulgent, divinely scented candle.

19. Adopt an endangered animal. Help the environment by adopting an orangutang, tiger or panda for any animal-loving friends.

20 – 35. Inspirational Books. Why not inspire fellow friends and family members with a book that will open their minds and excite them about the possibilities that 2014 offers! Here are my top 15 most inspiring books of all time:
The Power of Intention

– Wayne Dyer
Losing My Virginity

– Richard Branson autobiography (great for business savvy friends/family)
The Art of Happiness

– Dalai Lama
Steve Jobs

– Walter Isaacson biography (great for ambitious friends)
The Element

– Sir Ken Robinson (fascinating read on creativity & education)
My Stroke of Insight

– Dr Jill Bolte Taylor (incredible account of a neuroscientist who observes herself having a stroke)
If this post was helpful, please share it with others.

More Simple life Strategies:
Join 108,000 beautiful souls on the Simple Life Strategies Facebook page to get access to articles before anyone else!