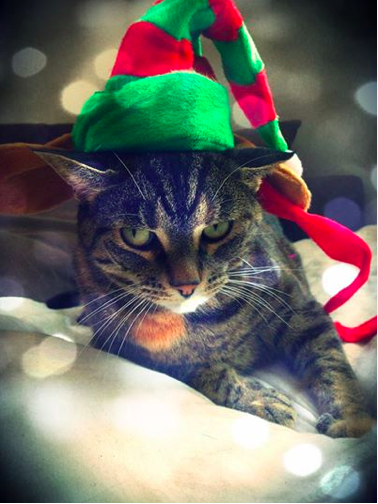 While there are many reasons to get stressed out and exhausted during the final weeks of preparation for Christmas, when we actually reach Christmas day, there's alot of fun to be had. Today, let's celebrate all of the amazing things about Xmas – the things that make us smile and laugh and enjoy ourselves! Sometimes as adults we can forget one very, very important thing and it's this:
Life is supposed to be fun!
That's right – it's so easy to get caught up in our day to day gripes and we all too often forget to stop for a moment and have some fun. Christmas is the perfect reason to let your hair down, breathe out a little and just let go! In the spirit of Christmas fun, here are 15 adorable pictures of Christmassy animals, including my own kitty cat – Peaches at the top of this post!
I wish you all a wonderful, laughter infused Xmas!
15 Adorable Christmas Animal Pictures
If these cute animal pics made your heart melt, share them around!
More Christmas Posts:
Join 108,000 beautiful souls on the Simple Life Strategies Facebook page to get access to articles before anyone else!