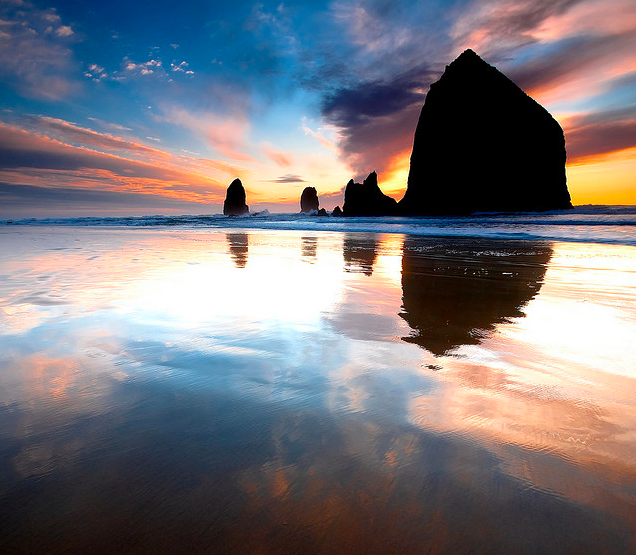 Travel and Inspiration go hand in hand. When we get away, we blow the boundaries of what's possible.
We learn new things, we meet new people and we find out a bit more about who we are.
We break free from routine and unleash our adventurous side.
When we travel, the real 'me' is exposed.
There's nowhere to run, nowhere to hide and quite often we have to just 'deal with stuff'.
Traveling is an activity of extremes where we may have the best day of our lives and be exposed to something so incredible we are uplifted and inspired yet the next day we are forced to step outside of our comfort zones and face our fears head on.
Either way, we learn and grow.
If you don't have a trip planned soon, plan one now.
Life is for living.
Get out there – see the world.
Simple
Life

Strategy: 12 Reasons to Go Traveling and 20 Top Travel Blogs

Here's 12 reasons why you should go traveling, plus 20 unique travel blogs that have inspired me.

1. Open your mind. When we travel we're exposed to new situations and cultures. This literally opens up our minds as we learn new ways of doing things.

2. Grow your network. Travel encourages us to be more open to making new friends. This is a great way to expand your global network. Who knows maybe in the future, you can do business with your new travel contacts or simply help each other out at some point.

3. Escape the mundane. No more weekly grocery shopping! No more chores or errands to run! When we travel we have so much more time for the fun stuff and are less bogged down with the mundane duties of everyday life.

4. Be Inspired. Routine and 'everyday living' can block our inspiration. When we travel to new countries, our mindset is very much geared towards 'inspirational thinking' because we are freed from our usual routines and habitual attitudes.

5. Do things you would NEVER usually do. When we travel we can end up in situations that really push us out of our comfort zone. Often, because we are in another country, we don't have a choice and have to just 'deal with' challenging situations. It's healthy to push yourself every now and then so that you grow as a person. Plus you may discover things you didn't even know you could do!

6. Build inner strength. Traveling helps us learn how strong we really are. When faced with difficult or challenging circumstances we realise that we can handle ourselves after-all. We discover our own inner strength and this can help to build confidence and self-worth.

7. Put everything into context. When you experience a hairy situation when you're traveling it gives you the perfect reframe to use at a later date. So when you get home, you always have something worse off to refer to when thing aren't going well. You can say "At least this isn't as bad as that time when we were traveling…". For me, traveling through India and to the Taj Mahal really taught me the lesson of perspective. After a 14-hour traffic stint en route to the Taj Mahal I never complained about 20 minutes of traffic in Sydney ever again!

8. Learn patience. Sometimes you don't have a choice when it comes to who you hang out with when you're traveling. If you're on a guided tour you may have to befriend less than interesting people or people that just rub you up the wrong way. This teaches you the skill of patience and relationship building.

9. Think Big. 20th century living can be stressful and often our minds are over-run with everyday problems and issues that we need to solve. When you travel, you free your mind and clear space to think about the things that matter. We automatically switch to 'big picture thinking' that can help us prioritise what's really important to us in life.

10. Be adventurous! Traveling gives you the opportunity to set your adventurous side free. Now is the time to banish your fears and do all of those things that you always wanted to but had no time for. Unfamiliar environments make it much easier to be adventurous because no one has a reference point of who you are. Even if you usually have a reputation for being shy or unadventurous, traveling can free you to explore other aspects of your personality that you didn't know even existed.

11. Learn flexibility. According to Darwin, the most flexible person wins. Traveling forces you to be flexible and go with the flow a bit more. Sometimes everyday life can be regimented and focused on routine – traveling teaches you how to be more flexible and let go of rules and pre-ordained ways of doing things.

12. Ditch the computer. At least for a few days at a time you have the chance to take a break from technology. Give your eyes a rest from the computer screen and enjoy time in the 'real world'. Have conversations with real people and spend time outdoors instead of being cooped up on a PC or laptop.

If this post has inspired you to go traveling, here are 20 top travel blogs (in no particular order) to inspire you to get out there and see the world. I've handpicked these blogs based on each one offering it's own unique twist on traveling.

1. Fogg Odyssey
In 1999 Troy Floyd left his 84 hour a week, six figure job to become a travel photographer. His blog features visually arresting images like this one of an elephant getting a bath in an Indian temple.

2. Y Travel Blog
Aussie couple Caz and Craig help you get informed…get inspired…and get going! In their own words: "We believe life is all about creating great memories and making it a story to tell."

3 Nomadic Matt
Nomadic Matt offers travel advice with a focus on affordable, budget holiday options. In his own words "Travel doesn't have to be expensive nor does taking a long term trip require you to uproot your existence."

4. Cas & Jonesy
Cas and Jonesy are two Aussie Explorers constantly pushing the boundaries of human endurance. On the 26th January 2012, they made history by completing the longest unsupported polar expedition of all time by walking from the edge of Antarctica to the South Pole and back without assistance. They document their crazy adventuring on their blog. I love them for their enthusiasm and boundless energy.

5. Jack & Jill Travel
I love these guys. They offer a quirky take on worldly travels and always leave me giggling. Their introduction says it all: "This is a story about a wunderlust woman & her not-so-wunderlust husband travelling around the world". One of my favourite posts is 'When an Alaskan Salmon Runs (or Why it sucks being a salmon). This heart-wrenching post is enough to make you swear off salmon for good!

6. Champagne Living
Zipporah "Zippy" Sandler is a lifestyle and travel specialist who has lived everywhere from Providence to Paris. Zippy provides fabulously indulgent and luxurious travel inspiration.

7. Positive World Travel
Anthony Milotic and Elise Reeks spent three years saving for a house deposit and decided to go traveling instead. Follow their journey on their blog Positive World Travel.

8. National Geographic Travel Blog
Cultural, Authentic, Sustainable: National Geographic Traveler believes that to know the world is to change it. Nat Geo provide informative travel articles with a focus on sustainable travel.

9. Wandering Earl
Derek Earl Baron has been traveling the world since 1999. I love his practical advice posts like this one: How to avoid being ripped off by taxi drivers.

10. World Travel for Couples
Adam Seper and his wife Megan provide valuable travel advice for couple travelers. If Hiking is your thing, these guys have some great tips for tackling the Inca Trail and Machu Pichu.

11. Gadling
Gadling is a diverse travel blog, written and edited by a collection of passionate travelers and writers. I like the handy 'Travel Tech' section for the latest travel gadgets.

13. Jaunted
Jaunted is the pop culture travel guide for globetrotters, business road dogs, and arm chair travelers who are too harried to sit down with a traditional travel guide, or wait for a monthly travel magazine.

14. Global Grasshoppers
Becky and Gray are a UK-based husband and wife team behind GlobalGrasshopper. They have a team of travel writers who write about beautiful undiscovered places.

15. Hecktic Travels
Dalene & Peter Heck, are a Canadian couple who sold everything they owned in 2009 to travel the world. They are currently beer tasting in Munich, Germany, I especially like the format of the huge travel photos they feature and this post on German Beer Culture.


16. The Vacation Gals
The Vacation Gals are three professional travel writers and moms who share their favorite destinations for family trips, girlfriend getaways and romantic escapes.

17. Don't Ever Look Back
Amy & Kieron are an Australian couple sharing their travel adventures from around the world. I love their Friday Photos like this one of Brooklyn Bridge.

18. Hole in the donut
Barbara Weibel abandoned her 80-hour-a-week career to live a life of cultured travel, writing and photography. In Barbara's own words: "I was like a donut – a wonderful outer shell with an empty, hollow inside. I could no longer ignore the need to feel that I was living a purposeful life. I needed to fill the hole in my donut."

19. Solo Traveller
Janice Waugh became a widow and empty-nester at about the same time. And then, she became Solo Traveler.  Janice writes about her single life traveling from place to place and finding success as a location-independent entrepreneur.

20. Europe Up Close
Terri Fogarty of Portland, Oregon, and Mike Coletta of New York, NY are veteran travelers of Europe and share their knowledge of European travel destinations.

Know someone in need of travel inspiration? Share this article with them!

Image Source: Flikr

Read more Simple Life Strategies:

Join 108,000 beautiful souls on the Simple Life Strategies Facebook page to get access to articles before anyone else!