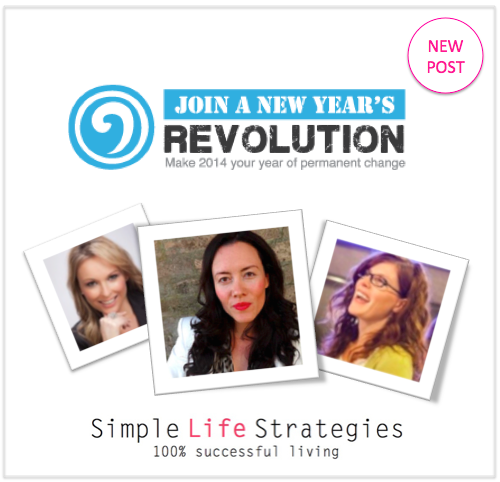 This year I have joined forces with 31 other personal development experts around the world to produce a free e-book and webinar series called 'New Year's Revolution.' Anyone can register for free here.
By joining the revolution you will:
Receive access to the free 200+ page eBook to help you transform 2014
Be given access to a community of people around the world, as well as the 31 experts (including myself), as you share, discuss, empower and see change.
During February 2014, for a total of 31 days, you will be invited to a FREE webinar series presented by each of the experts, based upon their own chapter from the e-book.
Experts will be offering everyone who has signed up a significant discount on their own products, services and resources to ensure that 2014 changes your life in every possible way. I will be offering a great discount on my LESS STRESS course – so look out for that!
My e-book chapter
You'll find my own chapter (#24) in the e-book on page 147 where I teach you a step-by-step process to help you make decisions faster and easier. You can also watch a short video about my chapter here:
Register for free now
It's completely free to register and there is so much great content in the e-book alone (including some great tips to transform your life) so I would definitely recommend taking advantage of the free registration!

If you know anyone who might also be interested in registering for free to the New Year's Revolution, share this article with them!
More Simple Life Strategies:
Join 108,000 beautiful souls on the Simple Life Strategies Facebook page to get access to articles before anyone else!