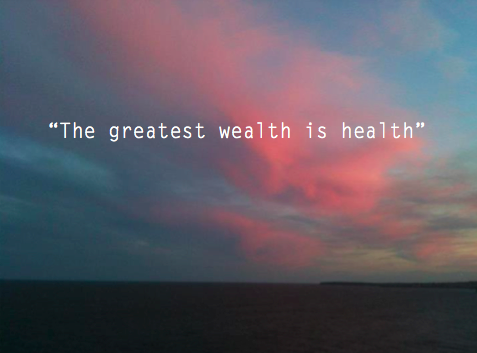 Have you ever wondered what it's like to jump out of bed feeling sprightly and in good health every morning? To have more energy and time at your fingertips? To lower your stress levels, give your skin a natural boost and even optimise your brain?
Wonder no more – these are some of the health benefits you could enjoy if you take part in Ocsober this year. AND you'll be helping a really great cause too.
Last week I was invited to the Ocsober media launch. Having met the good folk at Life Education I left the event feeling inspired to support a cause that has many parallels with what I write about on this blog. I've always been passionate about educating people to make empowered decisions in life, and Life Education have the same beliefs that it's not about fixing problems for people, it's about teaching them how to fix their own problems – or better yet how to prevent problems from occurring in the first place. The old saying rings true:
Give a man a fish and you feed him for a day. Teach a man to fish and you feed him for a lifetime
At the media launch, held in Hugo's in Kings Cross, there was energetic mocktail making (I'll share some of the recipes with you later on), some gentle arm-twisting and I'm pretty sure I left having agreed to take part myself.
What is Ocsober?
Ocsober is an annual fundraising event that encourages people to give up alcohol for a month. All dollars raised go to a really great cause: educating Australian kids to make empowered decisions when it comes to drug & alcohol use. Life Education go out to Australian schools and teach young kids face to face about the effect of alcohol & drugs on their bodies and how to make healthy lifestyle decisions.
Let me point out one thing here: Life Education are not a 'strictly no alcohol' charity; they encourage positive use of alcohol (hence the media launch in a bar in Kings Cross). So this isn't about me preaching to you never to drink again. It's about us teaching kids not to become alcoholics or drug addicts later in life.
And so I will be taking part this year. I will be starting early on 25th September so that I can finish early on 25th October (as I'm off on holiday on the 25th and one of my holiday rituals is to have a glass of wine with cheese and crackers on the plane).  The Life Education team tell me this is OK – if you have holidays planned you can start early or late to work around your plans.
They also tell me you can 'buy' a 'night off', so if you've got one or two nights out that you just can't miss, then you can work around this (and raise extra cash in the process).
I have to say I'm a bit excited about taking part. It will be interesting to see what life is like with no alcohol at all. I'm looking forward to no more hangovers and a substantial cash saving because let's face it: alcohol isn't cheap (not that I drink a lot, but I do like a bottle of nice wine over dinner and I am partial to a margarita on a girls night out).
So I ask you my fellow readers to join me on this challenge. To raise some cash for a worthy cause and get healthy in the process. Summer is upon us so it's a good time to detox.  And if you still need more reasons to join, here's 10 reasons why you should give up alcohol this October and join the Ocsober cause:
Simple
Life

Strategy: 10 Ways Ocsober can Improve Your Health

1. Increase energy levels. Alcohol can make you feel tired and sluggish. Take advantage of an increase in energy levels. Now is the perfect time to get all those things on your 'to do' list done.

2. Lose weight. Alcohol is laden with empty calories. Ditch the booze and you're sure to see an improvement in your figure. (be careful not to overcompensate with unhealthy foods though!)

3. Improve your skin. Swap wine for water and your skin will thank you for it. You'll notice how much your skin naturally glows when it's hydrated and alcohol-free.

4. Optimise your brain. Say goodbye to those fuzzy, headachy mornings and say hello to a new clearer, optimal functioning brain. Studies have shown that short-term alcohol consumption can negatively affect the brain so be kind to your brain this October.

5. Lower your stress levels. Alcohol can trigger stress in the body and brain. Having a month off will do wonders for your stress levels. You might even start to notice how you no longer 'sweat the small stuff'.

6. Improve your financial health. Alcohol can create a pretty large dent in your bank account. Think about how much you spend each week (wine over dinner as-well as drinks going out). Then work out how much you spend a year on alcohol. You might be surprised just how much money you're investing in something that can leave you feeling pretty dusty the next day.

7. Set yourself a challenge. When we set ourselves a challenge or a goal in life we are naturally motivated. This converts to energy and lifts our spirits. Think about the sense of achievement you'll feel once you've got to the end.

8. Form long-term healthy habits. When we cut something completely out of our diet for a substantial period of time, it's easy to reintroduce it in reduced quantities. Once you've had a whole month off, you'll find it easier to cut back on your alcohol consumption in the long run. I like a glass of wine as much as anyone – so I'm definitely not saying you should quit alcohol entirely! It's more about working out what works for you and drinking in a way that positively enhances your life rather than a way that's detrimental.

9. Notice your relationship with alcohol. You might start to notice what triggers your desire for an alcoholic drink. Is it stressful situations? Times when you want to relax? Or just as a means to 'have fun'? By cutting it out, you'll start to learn why you drink in the first place, which may be a surprise to you. The point is, the more self-aware we are of our behaviors, the more successfully we can live our lives.

10. Enjoy more time. When you don't drink, you may notice how much more time is available to you. Hangovers can take up such a huge part of your day. Use your new-found time wisely and learn something new. Try a new style of exercise, learn a new recipe, or simply spend more time with your favorite people.

Sounds good? Sign up to Ocsober now!

Or sponsor me today on my personal fundraising page.

It's much easier to do a challenge like this with a few friends. Share this article with people that may be interested in joining the Ocsober initiative.

Join 108,000 beautiful souls on the Simple Life Strategies Facebook page to get access to articles before anyone else!