How to Switch Off When You're Really Stressed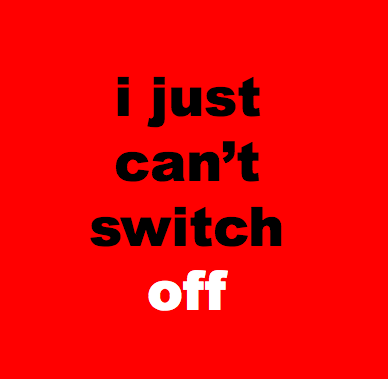 Last week I asked readers what problems they would like fixed. Steph wrote in with a great question about how to 'switch off' when under alot of stress:
"When overwhelmed with a stressful job, how does one switch off to enjoy the moments outside it. Its all too easy to be consumed by worries and pressures so how do we overcome restless nights and get that feeling of wellbeing back again?"
Great question Steph. Stress is probably one of the biggest concerns in modern day living.
Luckily, there are a couple of super easy things you can do to relieve yourself from stress.
The first step is understanding a bit more about the term 'stress' and what this really means.
So what is stress?
It's interesting that Steph used the term 'worries' because when you break it down, 'stress' is nothing more than a collection of worrying thoughts. And when you think about defining a 'worry' – it's simply 'a fear of a negative consequence in the future'.
Cast your mind back to the last time you were stressed. It's likely you were worrying about something that had not yet happened.
In Steph's case – from what she's told us, her worries are work-related. This is not  a surprise as high pressured, deadline-driven jobs can leave many of us chasing our tails trying to get everything done in time!

The good news is this:
Stress is based on worries – and worries are not real!
If you think about it, often when we worry, we are essentially 'imagining things going wrong'. Nothing is actually going wrong right now, we just worry about what will happen IF it does go wrong.
So – we are worrying about something that may never ever happen. A life based on 'what ifs' is a very stressful life indeed.
And yet when you look at the cold hard facts, research has shown that 80% of worries never happen. I'll repeat that:
80% of worries NEVER happen
So when we are consumed by stress, 80% of the time that we spend worrying is a complete waste of time and energy.
The sooner we understand this, the quicker we can choose not to bother with stress.
What I find disconcerting is that in the corporate world, people are rewarded for being stressed. It's almost as if there is an unwritten rule that the more stressed you are, the harder you're working.
The irony is that when we're stressed, we inhibit our brains from working effectively and in-fact hinder our progress and results. Studies have found that stress interferes with memory, concentration, judgement and decision making. In-fact, the Centers for Disease Control have substantiated this with data showing that stress is the single highest cause of worker absenteeism, double that of all other illnesses and injuries.
So, the very opposite is true – the more stressed we are, the less we achieve.
If you look at highly successful people who are in the public eye a lot – do they look stressed? Or do they look composed and in control?
In my experience it's the latter. And the reason for this is that it's simply not possible to work in a high-pressured job and maintain a high level of stress, because at some point you will burn out.
So – the sooner we understand how pointless stress is, the sooner we can leave it behind.
How do we switch off?
In relation to Steph's question 'how do you switch off?' – the answer is to learn how to control our internal dialogue, because this is where worries stem from.
As children growing up, we're not taught how important it is to learn how to control our minds, yet if you look at the difference between someone who is happy and successful in life and someone who is not, 'mindset' is one of the crucial factors at play here.
We may experience a very stressful day at work and then get home only to 're-live' the stress in our heads again and again which stops us from relaxing or getting a good night's sleep.
It's crucial that we learn to pay attention to our internal dialogue and our thought-process as this is the first step to control our mind and use it for success, not failure.
I love Roger Banisters story of how he used his mindset to break the world record 4 minute mile. Would he have broken the record if he had been consumed by worries? Unlikely. Yet this is such a common problem in western society.
Now, before you despair – there is some good news. What people don't tell you, is that taking control of your worries and your mind is much easier than you think.
It does take discipline, but it's worth it.
Simple

Life

Strategy: How to switch off when you're really stressed
1. The first step is to understand how pointless stress is! Break away from any negative perceptions that 'you have to be stressed to get things done.' The opposite is true.
2. Awareness is the second step. It's natural for us to let our minds roam free and focus on whatever pops up, even if it's negative. Start to become aware of when you're worrying and interrupt any negative thoughts by reminding yourself that '80% of worries never happen.'
3. Pay attention to your breathing. Is it faster than usual? Or are there big pauses in-between breaths? If you notice changes in your breathing you can calm your mind down by slowing your breathing rate. Inhale slowly for a count of 3 and then exhale slowly for a count of three. You'll be surprised how quickly this can slow your mental chatter down.
4. Now that your breathing is under control, break down your worries further by asking yourself 'Is this a fact? Or am I second guessing what will happen?' 90% of the time we 'make things up' in our heads and turn them into real situations. Choose to only pay attention to the 'facts'.
5. Deal the final blow by reminding yourself that your worries are actually stopping you from fixing the very thing you're worrying about! The irony is, we think we're doing ourselves a favour by 'being stressed' because on some level, we believe we can solve our problems if we keep thinking and thinking and thinking about them. Over-thinking, however serves us no useful purpose. Research has shown it's much more effective if we 'take a break' from worrying and re-visit our problems the next day with a fresh, stress-free approach that will get us the results we need.
Know that you are in control of your mind, your thoughts and your worries. Just choose not to listen to them so you can switch off and enjoy your time outside of work.
Changing your attitude towards stress takes time – so don't be surprised if it takes you a few attempts before you begin to notice any changes. If you persist – you will get there.
Thanks to Steph for sharing her question with us. If you have a question you'd like answered feel free to post one underneath this article (If you're reading this in email format click here to comment on the site. Just scroll down to the section that says 'leave a reply').
If you found this article interesting, share it with others.