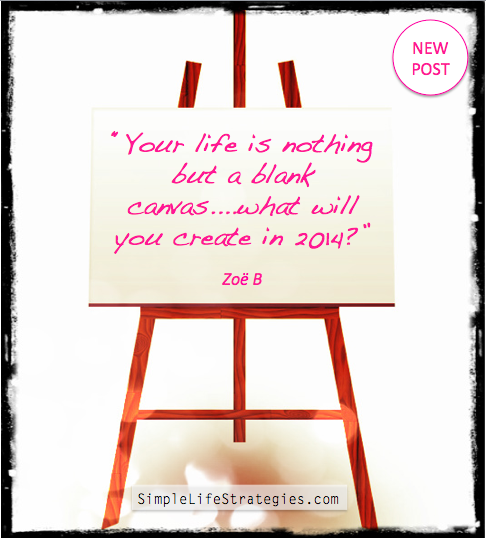 As 2013 comes to an end and we face the start of a new chapter, a new leaf, a new segment of our lives that is yet to be decided, it can be the perfect time to stop for a moment and consider how you want your 2014 to pan out.
The truth is, life is like a piece of art and 2014 is nothing but a blank canvas waiting to be shaped into something special, something meaningful, something fun.
So what will 2014 look like for you? Will it be a simple reflection of the same choices that are made year in year out, or this year will you decide to really make something of your life, to really become the person you always wanted to be?
Who do you want to be? Who are you now?
These are questions that long to be answered by the soul, yet the sad truth is that most of us manage to swerve them and instead opt for a life that reacts to nothing more than what's going on around us.
Maybe 2014 is about getting back to basics for you…about looking inward and getting to know your self a little better. Only once we know ourselves can we truly begin to go about creating a more fulfilling life.
Perhaps 2014 is about making a meaningful contribution to the world…about shifting the focus from the self to that of humanity. We all have something to offer the world, something to leave behind as our legacy. You have the choice to leave this planet knowing that your life has in some way contributed in a positive way. You also have the choice to leave nothing behind.
Is 2014 simply about embracing happiness…about taking your arms wide open and letting a little fun into your life. Take stock of the quality of your life right now. Have you become too serious? Does life feel heavy or light? How can you let a little lightness back into your life? The Dalai Lama once said:
"Happiness is the highest form of health."
How happy are you? And how happy will you commit to being in 2014? After all, happiness is a choice that must be embraced…a state of mind that must be consistently worked on, not an elusive feeling that momentarily stops by.
Is 2014 the time to focus on your physical health as-well as your mental health? Is it time to find alternative ways of looking at the world so that you can reduce your stress levels a little? Is it time to find a healthier lifestyle, a more balanced diet or a new form of exercise that will work for your body instead of against it?
Or is 2014 the year that you commit to making your dreams come true? You see, you can have anything you want in this world my dear, all you must do is focus and believe. That dream career you have always wished for? It's yours. Just take the first step and the rest will unfold. That perfect partner you have longed for? It's yours. Just become the attributes that you are searching for and it will happen. You will attract that which you search for if you yourself match that which you seek. So if you seek love, give love. If you seek a kind partner, become kind to others. If you seek someone to inspire you, take the time to inspire others. Mahatma Gandhi was well known for saying:
"You must be the change you wish to see in the world."
How are you being that which you seek? How are you stepping into the person that you want to be?
So take a look at your life right now and decide if it's working for you, if it's filled with fun and happiness and if it's meaningful and full of purpose? If it feels like something is missing, then 2014 might just be the year to make some changes. As Albert Einstein once said:
"The definition of insanity is to keep doing the same thing over and over again and expect different results."
The choice is yours. Commit to change, try something new or be stuck with what you have always got in life.
I know what my choice is…what will yours be?
To find out how Life Coaching could help you to get more focused in 2014 contact Zoe B below. For the month of January 2014 quote the promo code "2014janoffer" to claim 50% off your initial consultation:

Join 108,000 beautiful souls on the Simple Life Strategies Facebook page to get access to articles before anyone else!