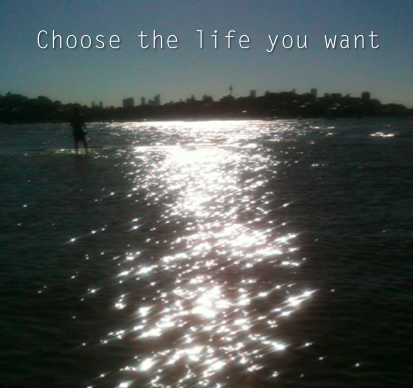 As we enter 2013 what goals do you have planned for this year?
Have you taken a few moments to think about how you want your life to be?
For many, goal setting feels like just another task to add to the list – which is why in my opinion, a lot of us don't bother.
I would like to challenge this way of thinking by asking you this:
If you could choose to live the life of your dreams wouldn't you do just that?
Or would you prefer to leave it up to chance and just take what you given?
Goal setting allows you to choose how you live your life. Because if we don't choose guess what?
Life just happens.
And before we know it we're living a pretty ordinary life that doesn't really excite us.
Here's the newsflash: By choosing not to set goals , you are agreeing to a life you may not want or even like.
Someone wise once said to me:
Doing nothing is a choice.
And this applies to goal setting. By choosing not to set goals you're essentially choosing to live a passive life – and in my experience this is why many people are deeply unhappy with their lives. They feel like something is missing – yet they don't quite know what.
Think about it like this:
If you don't know what you want, how can you go about getting it?
Knowing what we want, and what makes us happy is the first step to creating a life that will inspire us and really make us feel ALIVE!
Once you realize the importance of this statement, believe me you'll find the time to set some goals.
I would put it to you like this:
You can't afford not to set goals.
And it doesn't have to be a rigid, overly analytical process – it's more about taking the time to think about what you want – and then forming a plan around that. It doesn't even matter if you follow the plan step by step– it simply acts as a motivating force to get you on your way.
I've talked a lot about Open Minded Action and this rings true here – we must take action with our lives – but be open to alternative outcomes. The truth is – sometimes we don't know the best route to take – but if we don't start somewhere guess where we end up?
Nowhere.
Below I've put together a really simple beginners approach to goal setting (I'll be teaching some more in-depth techniques in my successful living course that will be launching later in the year too, so look out for this).
But for today – choose to make a start with your life by setting just one small, simple goal for 2013.
Simple
Life

Strategy: The Beginners 7 Step Goal-Setting Method

1. Spend just a few minutes thinking about what you truly want out of life. Are there any unhealthy habits you could give up? What positive habits could you try to do more of and what have you always wanted to achieve but never got around to it?

2. Consider what's really important to you (Identifying your personal values is a great way to do this)

3. Write a list of potential goals that you could tackle this year

4. Go back through the list and cross off the ones that you don't really, care about deep down (if they don't make you feel excited when you re-read them – it's likely they are not that important, or you're not ready to tackle them yet)

5. Now choose just one goal to work on (don't over-think this – just pick one)

6. Create an action plan – think about the steps you'll need to take in order to make the goal happen

7. Take action right now – what one tiny thing can you do immediately to make a start with this goal? Do it right now. No excuses, don't waiver – do it now!
If you have friends and family who could do with some goal setting tips, share this article with them.
If you would like some help setting some goals for 2013,

contact Zoe

about coaching packages.
More Simple Life Strategies:
Join 108,000 beautiful souls on the Simple Life Strategies Facebook page to get access to articles before anyone else!