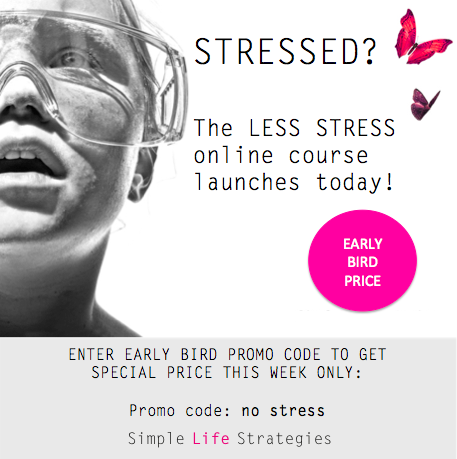 If you have ever found yourself experiencing symptoms like overanalysis, anxiety, restlessness, irritability or excessive worrying then it's likely you're familiar with stress.
Stress is something pretty much every person (in the Western world) deals with on a daily basis. The good news is – it doesn't have to be that way. I have made it my mission over the last year or so to develop a 5 step model that stops stress in it's tracks, leaving you to live a more balanced, happy and successful life. I can also share with you that every single person who has tried this course has lowered their stress levels – that's a 100% success rate! I want to say THANKYOU to all my regular readers with an exclusive early bird price on the LESS STRESS course for this week only, but before I get into the details, I want to tell you about my own personal stress story.
My stress story
Let me be honest here. Coming from the corporate world of Advertising I spent a good few years living stress to the max. It's an unsaid rule in corporate businesses that if you're not stressed then you're not working hard enough. For me, I got to a point where I just decided enough was enough! I just didn't want to live a life filled with stress, Nor should I have to!
This was before I even realized just how dangerous stress is and the impact it can have on your health. Did you know that stress can cause weight gain, high blood pressure, heart disease, depression, mental illness and it can even lower your life expectancy?
For me personally, stress was just no longer working for me. It was leaving me exhausted, grumpy, edgy and by the time the weekend came around I was reaching for one too many glasses of wine to numb the stress. It was really showcasing the worst version of me – the uptight, snappy, anxious version. What happened to the relaxed, easy-going, fun-loving version? That's what I wanted to get back to.
It was at this point that I made a commitment to give up stress for good. The LESS STRESS course is a combination of what I learned personally through this process, as-well as everything I have experienced as a life coach and neuro linguistic programming practitioner when working with clients and stress.
If you read this blog regularly you'll also know that I'm a bit of a research nerd and I LOVE to learn. So, bearing in mind I dedicate at least an hour a day to learning, the course also includes over a year of research on how the mind works in relation to stress.
The LESS STRESS course
I've distilled all of this information down into a proven 5 step process that anyone can implement into their lives to lower their daily stress levels. It's not a hard process either, I didn't start this blog to develop complex methods or techniques – I'm all about simplifying things and making things easier for people – not the other way around. Think of this course as high intensity training – but for your mind instead of your body. High impact bursts of exercises and information that delivers fast results.
As Richard Branson once said:
"Complexity is your enemy. Any fool can make something complicated Making something simple is hard."

I am so, so excited to finally launch this course today and I can share with you that a few Simple Life Strategies readers have already tried out the course and had some really wonderful results…here's what they have said:



An easy option
One of the other really exciting things about this course is that it can be completed absolutely anywhere and at absolutely any time. It's something you can work into your daily schedule as you please – all you need to do is commit 5 minutes each day for a 2 week period.
If you're the kind of person who needs an extra push, then there is also the option to complete the course along with one on one coaching (over skype). Or if you're super motivated, the online course might be all that you need. If you're not much of a reader, don't worry, the course also comes with a full audio program  so you can sit back, relax and listen to what you need to learn.

Try a new approach
If like I did, you have decided enough is enough, and you're ready to leave stress behind, then perhaps it's time to try a new approach. As Albert Einstein once said:
"A definition of insanity is to keep doing the same things over and over again and expect different results."
It's only when we try new avenues, new challenges and new directions in life that we are able to make positive long-term changes. Now I can't promise you that this course will suddenly make your life perfect and 100% stress-free, but I can promise you that it will help you to make some lasting changes when it comes to the amount of stress you face each day. I can also let you know that every single person who has tried the course, has lowered their stress levels as a result. That's a 100% success rate – and if you're worried it might not work for you, I offer a 30 day money back guarantee.*
LESS STRESS early bird price
Hand on heart, I have worked incredibly hard to pull this course together over the last year. A lot of passion, blood, sweat and tears has gone into this and I can't express how happy I am to finally share this course with you all today!
To celebrate, anyone who signs up this week before 30th September 2013 will receive the e-course only at the special early bird price of $99 USD (RRP $119 USD). Simply enter the below promo code to access this offer:
no stress
Find out more about the course and take advantage of this special offer here:

Here's to LESS STRESSED living! THANKYOU for all of your support. I am excited to help so many people put an end to their daily stress levels!
Zoe B
X
Join 108,000 beautiful souls on the Simple Life Strategies Facebook page to get access to articles before anyone else!