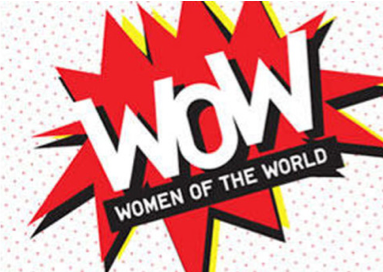 A few days ago I was honored to be a mentor at the Women of the World (WOW) Speed Mentoring event, as part of Sydney Writers Festival.
I didn't know too much about WOW until Jude Kelly (Artistic Director of Southbank Centre in London) introduced the festival. Jude is an amazing woman and is the creative force behind WOW – an annual global festival where women and men of all ages and backgrounds celebrate women's achievements and discuss the obstacles they face across the world. She completely captivated the audience with her down to earth, yet passionate opening speech and immediately grabbed my attention with this hard hitting fact:
There is not one single country in the world with equal rights for men and women
I found this statement quite shocking. I think what's interesting is that since the feminist movement in the 60s and 70s, many of us have just assumed that women are now being treated equally, when this isn't actually the case if you look at the stats. For example – the proportion of women in senior positions in business is significantly lower than the number of men. What's more, if you look at countries outside of the Western world there are much more serious, overt issues when it comes to women's rights – (such as the recent gang rape case in India and Malala Yousafzai who was shot by the Taliban for fighting for girls' right to education). Perhaps it's time people like us from the West did our bit to help raise this debate?
Why are equal rights important?
Jude went on to talk about the recent developments in research that put forward a powerful economic argument for equal rights. As Chrystia Freeland wrote in the NY Times:
"If you believe that talent isn't determined by gender, race or sexual orientation, but is instead a roll of the genetic dice, then the most productive society will be the perfectly fair one. A society that is blind to gender, race and sexual orientation will choose the best person for the job — not just the best white, straight man."
I think the important point to grasp is this:
"Fairness makes the economy more productive"
What's interesting about this argument is that it makes the equal rights discussion of importance for everyone – both men and women alike.  If the economy is likely to grow based on gender equality, then shouldn't this be something we all strive for?
Feminism is not a dirty word
When I think of the word 'feminism', for me it brings forth quite a serious form of activism and if I'm honest, almost a 'man hater' mentality. So I was relieved when Jude was quick to point out that WOW is not about the traditional notion of 'feminism', but more about 'equal rights'. She agreed that there's a stigma attached to the very term 'feminism' and that WOW is more about providing a platform for women to reach out and support one another. Interestingly WOW features several male supporters including the previous British Prime Minister Gordon Brown and Actor Patrick Stewart.
Women as competition
Jude brought to our attention the dynamic of women in fierce competition with one another and how this can result in a lack of support between women at senior levels in business. Why is it that women feel this need to compete against each other instead of supporting each other? And what can we do to change this dynamic?
The role of a mentor or coach
Finally, Jude stressed the value of having a coach or a mentor. It's these positive relationships that can make all the difference between success and mediocrity. And I couldn't agree more. A coach or a mentor is that person who's got your back. They're that person who can help you think clearly when confusion and overwhelm kick in. They're that person who will tell you "You can do it." When you feel like you can't. And ultimately they're that person who truly wants you to succeed and believes in you. Personally, I believe that everyone needs at least one coach in their life if not more – in-fact I have 3 or 4 people who I would consider to be my coaches & mentors in life and they are completely invaluable.
And so from this point at the event, we got stuck into the speed mentoring where I was honored to have the opportunity to mentor four women, each with different challenges to overcome.
The common challenge
What was interesting for me was the common thread between my four separate coaching experiences. All of the women I spoke to were bright, intelligent and very, very capable; they just needed a new way of looking at things and a gentle push in the right direction. And this is what I genuinely love about coaching; the idea that we all already have everything we need within us, we just need a helping hand to find it. Look out for my next post where I'll talk in more detail about my experience as a mentor during this event including answers to the most common question that I was asked: "What makes someone successful?"
Simple
Life

Strategy: How to Celebrate Being a Woman

Returning to the original theme of this post, I thought it would be fitting for us today to take a moment and celebrate being a woman in honor of the WOW festival. Here are a few short steps you can take.

1. Celebrate your achievements. There's a perception that women can be more humble about their achievements than men – think about what you've achieved in your life and take a few moments to pat yourself on the back! You deserve it!

2. Reach out to another woman in need. Consider if there is anyone you know in a work environment who could do with some help? What can you do to support them?

3. Raise the debate. Make a point of discussing the issue surrounding women of the world. If these topics stay hidden under the radar, it will be very difficult to forge changes ahead.

4. Find a mentor or coach. Spend some time finding someone who you can ask to be your mentor or coach. Select someone who you believe aligns with your values and someone who you respect. If you're interesting in working with me, please visit my coaching programs page or send me an email at Zoe@simplelifestrategies.com

5. Do it for the girls. Decide right now to dedicate your life to be a working example of a strong, successful woman. Get focused on your goals and just go for it!  You have the opportunity to inspire so many other young women just by committing to your own achievements.

What are your thoughts and experiences on gender equality:?
If this article inspired you, please share it with others.
More Simple Life Strategies:
Join 108,000 beautiful souls on the Simple Life Strategies Facebook page to get access to articles before anyone else!