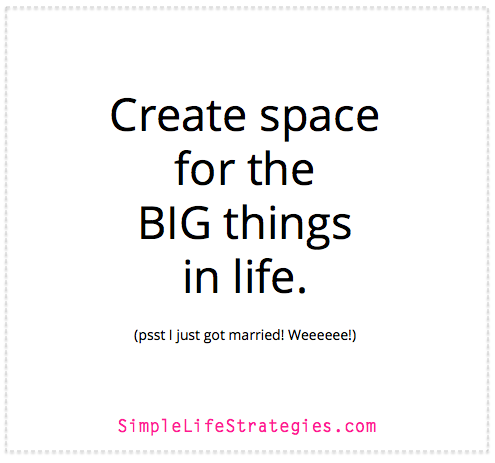 A week ago I got married (more on that later…and pictures to come!). I've already soaked up some golden nuggets from this shiny happy experience (many more than I anticipated), but one of the biggest things I've taken from it is the importance of consciously creating space for the big things in your life.
Lets face it. Marriage is a BIG THING. You only do it once (well that's the idea anyway). So it's crucial that you're 100% present and in the moment. The thing is – it's actually the hardest time in your life to be present because there is SO MUCH GOING ON.
Like most big moments in our lives, it's easy to get caught up focusing our attention on the little things, the stuff that doesn't really matter. Luckily for me, I had a very wise celebrant and he warned me of all of this. Graham Long is the CEO of The Wayside Chapel in Kings Cross. In his own words 'The Wayside Chapel provides unconditional love, care and support for people on and around the streets of Kings Cross." It's an incredibly inspiring organization. And he is an incredibly inspiring man.
When I asked Graham what side of the aisle the bride should walk on, he simply said "I find the more you worry about these things, the less present you are. We turn up, we walk down…how hard can it be?!"
I love his simplicity. Weddings, like other important big life occasions can get over-complicated and over-thought. In-fact I've noticed that when I have a problem in life it's usually because I'm over-thinking it or over-complicating it in some way.
So that was lesson number one:
keep things simple
The second thing that I'm so so happy that I had the foresight to do was this:
I created space
Instead of trying to maintain all of my usual day to day activities and schedules in life, I consciously cleared a substantial period of my life free from EVERYTHING, so that I had the physical space to focus on my wedding. I made sure I had room to breathe and time to really experience everything that was going on. This helps keep Madame Overwhelm at bay!
And I'm not just talking about clearing out things like work commitments or chores – I'm talking about removing the things that I really enjoy too. I stopped practicing yoga. I stopped my meditation practice (except on the day of my wedding when I led all of the guests through a 1 minute meditation – but more on that later), and I even stopped trying to eat healthy all of the time. I broke all of my own rules and just did whatever I felt like doing and it felt great.
I'm a firm believer in having a flexible approach to the rules we set up for ourselves. I personally love to meditate daily and practice yoga most days. But, for the last 2 weeks I just didn't feel the need to do either and that's cool with me. Sure, there was a time where I would have beat myself up for being lazy or not being committed enough – but now I take a different approach. After-all – it can be easy to mistake the tools for the goal. What's the purpose of meditation & yoga after-all? To make us feel connected, calm and present. I was already feeling all of these things from the high of getting married – so why push myself into doing something for the sake of doing it?
And besides rules are made to be broken right?
I also find that taking a short break from the old routine is one of the most refreshing things you can do to inject some inspiration into your life. And I know that as I return to some of these healthy habits I'll enjoy them even more.
So lesson number 2:
It pays off to create space for the big moments in life.
Space to be present and space to do whatever the hell you feel like doing in the moment!
If you have a big life moment coming up (maybe you're getting married, having a baby, starting a new job or moving house), I would highly recommend taking some time out to create some space. Look at what you can cancel for a few weeks knowing that it will still be there when the dust settles.
So many people said to me 'it goes so fast' about their wedding day, but you know what – mine didn't. It actually went really slowly. And I can now look back with no regrets, knowing that I was as present as I could possibly be for that big life moment. And believe me it was worth it! (I can't wait to tell you more about my wedding!)
Simple
Life

Strategy: How to Create Space for the Big Things
Take some time to create space before the big life moment arrives! (it's likely you'll be too overwhelmed once you're in the middle of it)
Don't' be afraid to switch up your usual daily routines for a while – they will still be there when you get back to normal and its good to have a break
Don't try to just keep on doing everything that you usually would, as you need extra emotional & physical space during big life moments
If things get ugly check in to see if you're over-thinking or over-complicating things? How can you simplify?
Relax and enjoy being present in the moment! This is one thing you probably will remember when you're life flashes before you so it's worth making it a good one!
Tell me about your big life moments? I'd love to hear from you in the comments below.
With love
Zoe B
PS I am SO EXCITED to share my wedding photos with you soon! And as a special reward for reading all the way to the end…here's a sneak peak!!! xx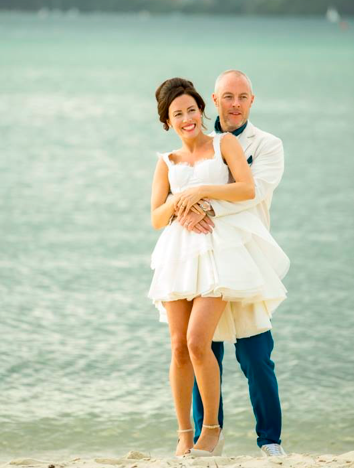 Join 108,000 beautiful souls on the Simple Life Strategies Facebook page to get access to articles before anyone else!