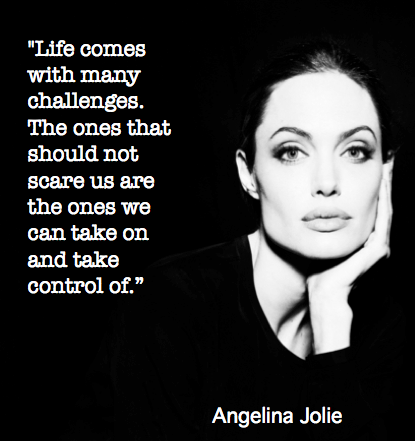 When something as public as Angelina Jolie's double mastectomy comes out in the press, you can't help but wonder where she found the courage to deal with such a challenging situation.
At times we all need to take a deep breath and find the courage within, but some people just seem to be more courageous than others. Or do they?
Today let's take a look at the emotions behind courage and how we can take some inspiration from Angelina to embrace our own inner courage in life.
Courage is not an absence of fear
"I learned that courage was not the absence of fear, but the triumph over it. The brave man is not he who does not feel afraid, but he who conquers that fear." Nelson Mandela
One of the major misperceptions about courage is that it implies a lack of fear. In-fact quite the opposite is true. It's not that people who are courageous don't feel fear, but that they simply choose to push through it, no matter how hard that may be.  The very act of courage is to feel fear in every single muscle in your body and to still go ahead anyway.
Courage can be quiet
"Courage doesn't always roar. Sometimes courage is the quiet voice at the end of the day saying, "I will try again tomorrow." Mary Anne Radmacher
Another misperception about courage is that it must be loud and powerful. The reality is that often some of the most courageous people are the ones who quietly keep on trying until they succeed. Courage does not equal ego; true courage is the ability to face your fears in a quiet unassuming way.
Courage helps you help others
"I choose not to keep my story private because there are many women who do not know that they might be living under the shadow of cancer. It is my hope that they, too, will be able to get gene tested." Angelina Jolie
The courage of one person – such as Angelina Jolie in this case, can inspire hundreds and thousands of others. When we are courageous we inspire others to be courageous too. Plus courage provides a platform from which to inspire change.
When you know that your decision may positively affect many others, this can provide the motivation to push through those fears and be strong.
Courage is not winning
"Strength does not come from winning. Your struggles develop your strengths. When you go through hardships and decide not to surrender, that is strength." Arnold Schwarzenegger
Courage is not about winning – it's about overcoming challenges. To seek courage in the first place, we must be facing a challenge of some sort – or addressing a personal weakness. It's through the ability to face such challenges that we develop new skills and inner strength.
Courage illuminates your own inner strength
"Sometimes you don't realize your own strength until you come face to face with your greatest weakness." Susan Gale
I love this quote. If there was nothing to fear, how would we ever know how strong we are?  Think of courage as an opportunity to uncover an inner strength that you didn't even know existed. It's my personal belief that we are all much, much stronger than we realize. So, use courage as your opportunity to prove to yourself that you were strong all along.
Courage makes you grateful for what you have in life
For Angelina, the main reason she was able to courageously push through her decision to have the double mastectomy, was to protect her family. Her love for her family was so deep that she would rather undergo extensive operations than run the risk of leaving her family behind.
When we are faced with difficult decisions in life, we are often forced to consider what's truly important to us – and this is the gift of gratitude. It also evokes compassion for others as we make choices not based on our own selfish needs, but based on the needs of others. You can learn how compassion is related to happiness by reading my recent article: 5 Ways to Increase Your Happiness Today.
Simple
Life

Strategy: 5 Ways to Take Courage & Inspiration from Angelina Jolie

1. Understand that courage is not an absence of fear. Get used to experiencing fear and simply pushing through it.

2. Don't worry about acting in a certain way to be courageous. Remember that it's OK to be quietly courageous and it's not all about being the loudest person in the room.

3. Consider how you can use your own personal courage to help others. What positive outcomes could you encourage in others as a result of your own ability to be courageous?

4. Courage is an opportunity to uncover your own inner strength. Look at courage as a way of getting to know the best bits of you better. Who knows you might just surprise yourself.

5. Courage evokes gratitude. If you're struggling to take a courageous step, consider taking it for someone else that is close to you. Think about what's truly important to you, and allow those feelings of gratitude to power you forward.

"Life comes with many challenges. The ones that should not scare us are the ones we can take on and take control of." Angelina Jolie
So today, I wonder if you could take control and pick one thing to face head on with courage? Do it now. Take a deep breath, face your fears and know that you have the strength deep down to get you through.
If this article inspired you, please share it with others.
More Simple Life Strategies:
Join 108,000 beautiful souls on the Simple Life Strategies Facebook page to get access to articles before anyone else!