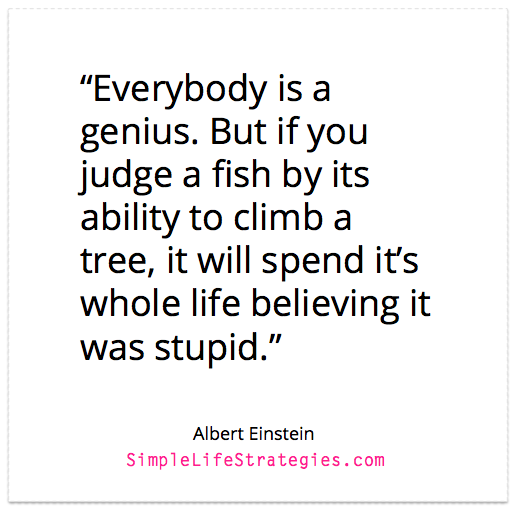 One of the things I most passionately believe is this:
EVERYONE is a genius at something.
I strongly believe this to be true.
We all have special talents and skills that are unique to us – even if the skill doesn't feel unique, the way that we do it will be.
And it's only once you know what your zone of genius is, that you can then go about finding your dream career (and live happily ever after).
And I really want that for you 🙂
When I work with people (in my Find a new career in 30 days program), we devote a lot of time to discovering what your unique abilities are because a strange thing happens when we're asked what is unique about us…
…more often than not, we draw a blank.
And I bet you're thinking right now – "yeah but I don't have any unique talents or skills…there's nothing genius about me!"
It occurred to me the other day why it's so hard to figure out your zone of genius – you see I've noticed a pattern with my students who have tried to answer this question and it's this:
We often overlook our zone of genius, because it feels TOO obvious.
And so we assume that whatever comes naturally to us, must also come naturally to everyone else too.
Wah wah.
This is where we go wrong.
If something comes naturally to you, then this is an indicator – not that it's an all-round easy thing for absolutely anyone to do, but that this could be one of your special talents!
Just yesterday one of my students wrote this post in our Facebook mastermind group and it sums up this point exactly: 

Whereas you and I are probably incredulous at the idea of even attempting to write an algorithm, for this student, it came perfectly naturally to her.
And because of the ease that she experienced, she assumed at first that it must be easy for everyone else!
Isn't that interesting.
I guess today I really just wanted you to know that you DO have a zone of genius and talents and skills that are unique to YOU, and it could just be that you're overlooking them.
And in-fact, just writing this blog post is making me feel like I want to do more, give you more help with this, because I really believe that discovering your zone of genius is one of the keys to a happy and fulfilling life.
If this post has resonated with you and you would like some help with finding your zone of genius, leave a comment below and if I get enough interest then I'll pull together some free tips & strategies for you to help you find your genius.
I'll only do it, if I get enough interest though! Do it now – and let me know if you want me to help you find your zone of genius?
With love
Zoe B
PS Are we friends on Facebook? If not I'd love for you to join the 60,000 other beautiful people on the Simple Life Strategies Facebook page. I'm in there all the time doing Facebook live streams – so come say hi here!
Join 108,000 beautiful souls on the Simple Life Strategies Facebook page to get access to articles before anyone else!
Save