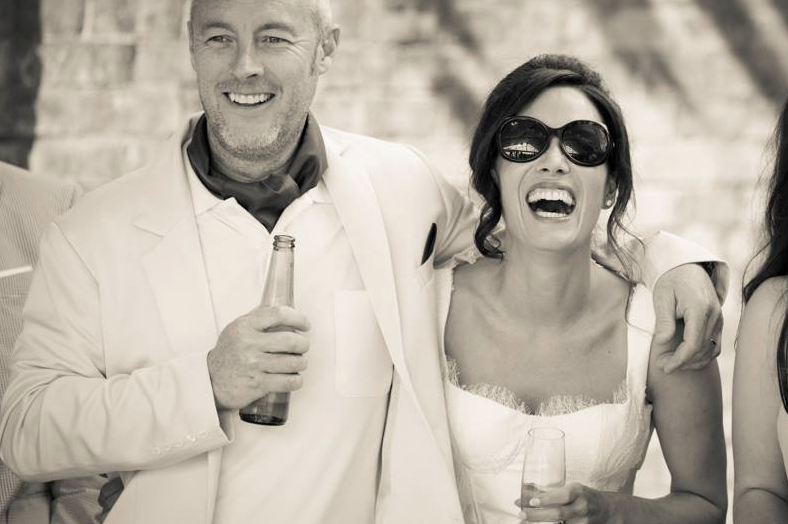 I just got my wedding photos back and OMG it is SO EXCITING to see the whole day again captured on film. Thanks a million Louisa Seton Photography & Kath at Bright Photography – love your work!
Getting married really is awesome. Everyone says it will be one of the best days of your life…but you kind of don't believe it. Until you get there. And it really is.
I've been pondering what it is that makes it so special and I think it's a few things. The first is everyone is just so happy for you! There's so much positive energy and you all sort of feed off each other's high energy vibes.
Secondly – if you think about it, a wedding is a whole day devoted to the celebration of love. I mean how amazing is that?!?! I was actually thinking about this at 5:30am on my wedding day (I'm not joking)…and literally on that morning I decided to take our guests through a 1 minute meditation on the topic of love. I figured it was my chance to wield my power as the bride – I mean no one can say no to the bride right?
And besides if there's one thing I learned from planning a wedding it's this:
You HAVE to make it your own.
It HAS to reflect who YOU are – nobody else. And you know what – if I hadn't done that 1 minute meditation it wouldn't have been my wedding.
So I did. And everyone groaned at the prospect of closing their eyes in public & going silent when all they wanted to do was drink champagne and be merry. But you know what – it worked. 100 giddy people all closed their eyes and focused on the subject of love for one whole minute. It was beautiful.
Almost as beautiful as saying 'I do' to the love of my life 🙂 (that bit's very special indeed).
Anyway, enough words. It's time for some pictures.
So…here's the dress!!! My beautiful friend Weave from By Weave designed my entire dress from scratch. It was such a fun experience to create something so beautiful out of nothing! I've always wanted a short wedding dress – so I ignored tradition and went pretty damn short.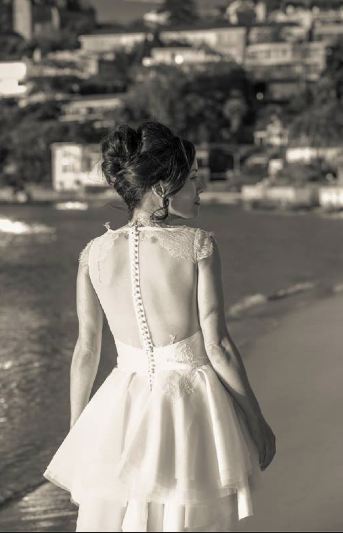 My husband's a pretty private guy (I love saying that word ' husband')…so I'm only going to show you one or two pics of us together…here he is 🙂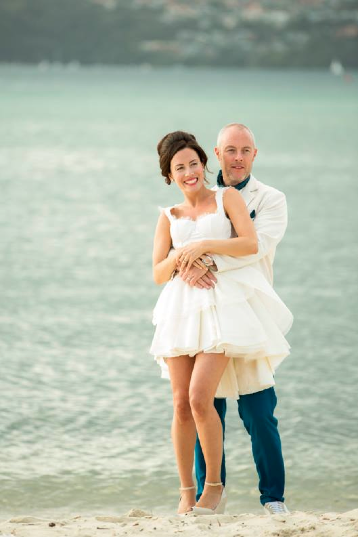 Our theme was Saint Tropez because where we live looks a little like the south of france. And we decided to get married in our garden (as we live on the beach and LOVE our view). SO we went with a modern nautical vibe with yellow, white & turquoise stripes.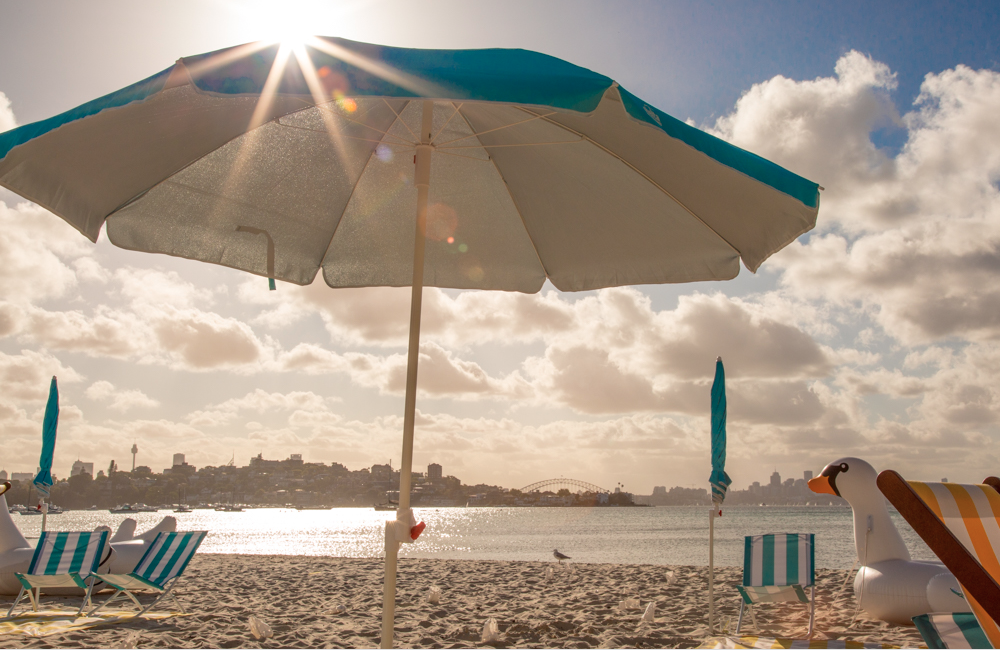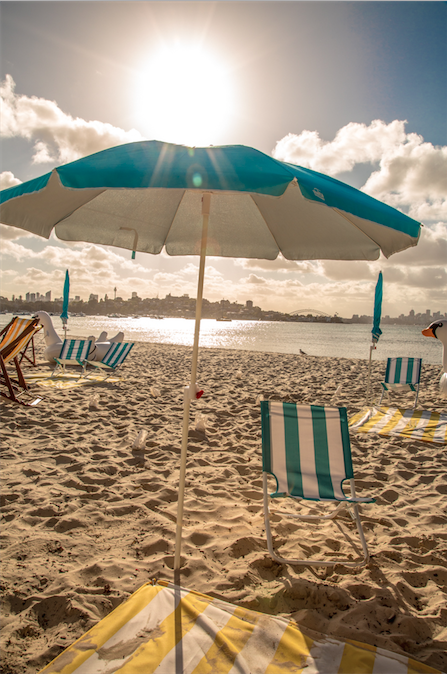 We had a huge marque in our garden that looked out onto the beach. You see those lanterns. We assembled every one of those by hand. Oh yes. That was fun 🙂 We also had some of the funniest speeches ever (and a live performance)…but I won't embarrass our lovely speakers in public.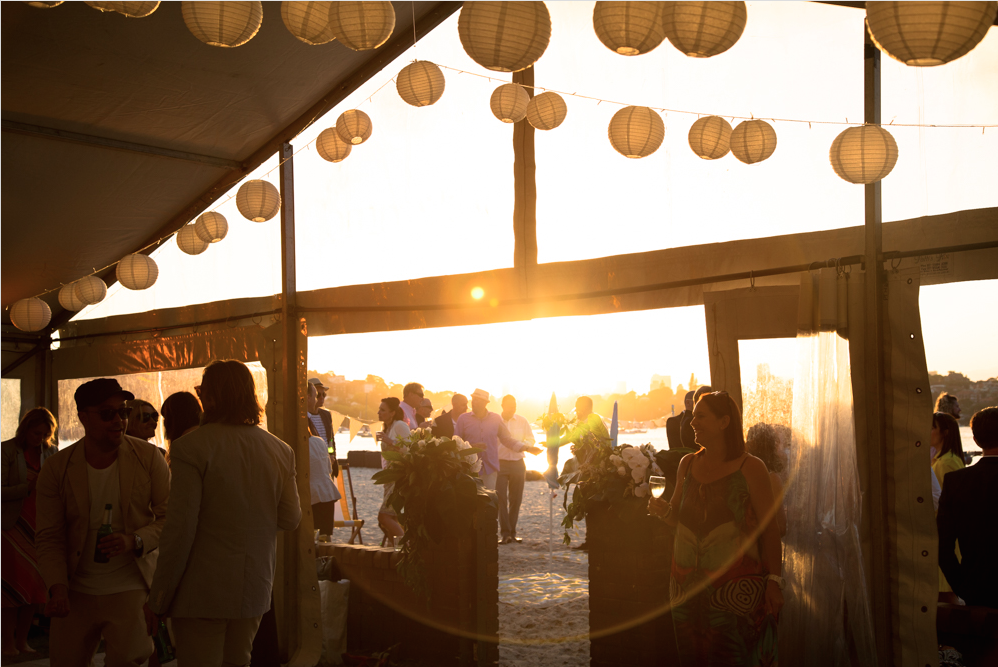 Every wedding needs a feature item…and ours was giant inflatable swans. Here they are!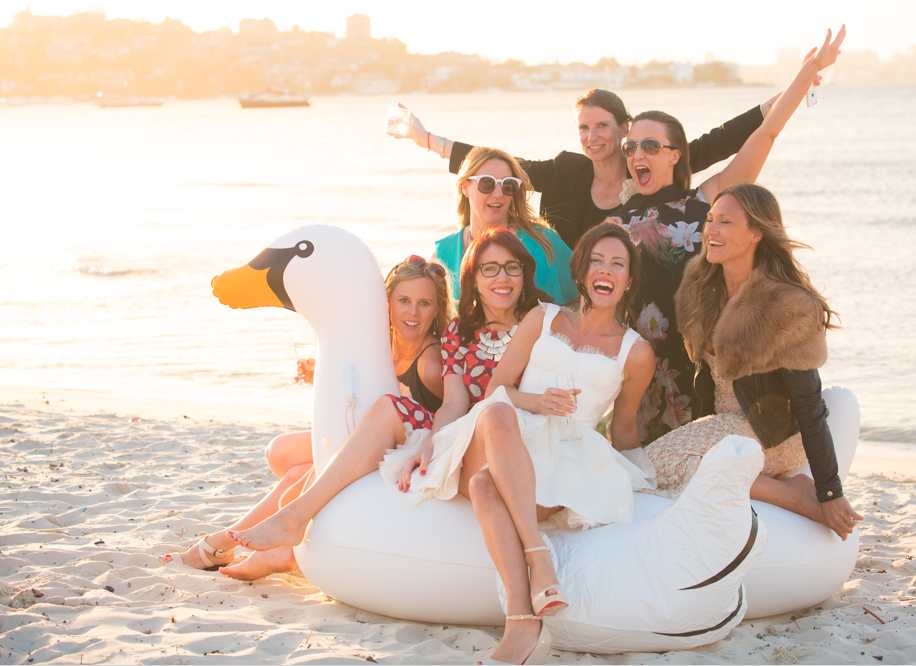 Here I am doing my 1 minute meditation…you see those butterflies in the background. We cut those out by hand. All 300 of them. Oh yes.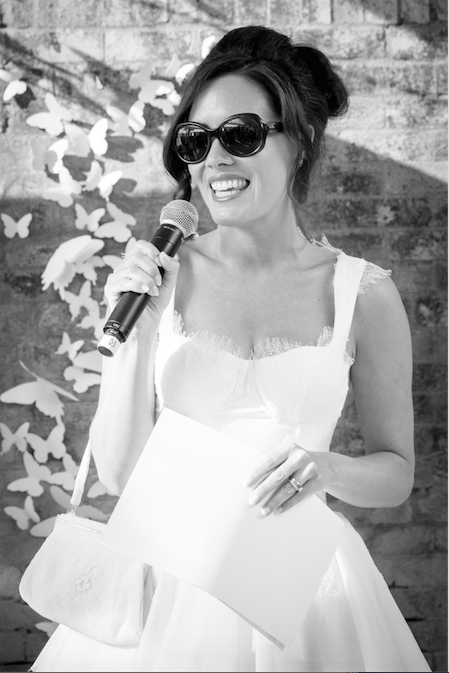 We were lucky enough to be married by the CEO of the Wayside Chapel – Graham Long. This man is one very special human being. He knows stuff. And he's funny. That's a tough combo to get right. Here he is 🙂 He's done some incredible work to help provide the most disadvantaged people of Kings Cross by providing them with showers, low cost meals and a wonderfully supportive community. What a lovely man.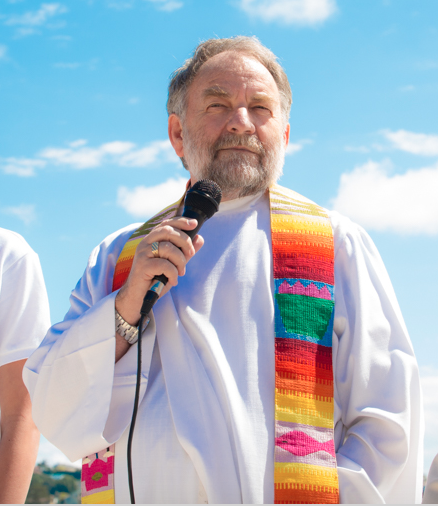 We threw tradition out the window! We are the total opposite of traditional kinda people…so our wedding was in no way traditional! I mean one of my values is innovation so there was no way I wanted any traditional shenanigans at my wedding. So we sacked off having a wedding cake, doing a first dance (too cheesy for us), having bridesmaids or grooms men (we don't like the idea of picking out friends over others)..and all of that general wedding nonsense that can stress you out (favours? I don't even know what these are but we didn't have them!).
Interestingly one of my mentors who was at the wedding summed it up perfectly – she said it was 'more love, less ceremony'. Yep our ceremony only lasted 10 mins. We're not into those long boring ceremonies.
Above everything we had a ridiculous amount of FUN. And that's what life's all about 🙂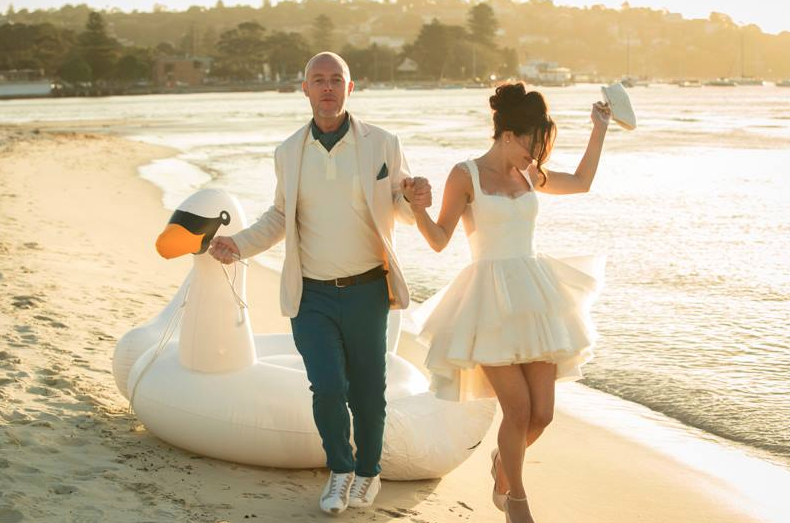 So there you have it. This is the wedding that was 🙂
Onto other news….last week I opened the doors to my Career Transition Intensive program. I've been hectic the last few weeks talking to people from all over the world who want to enroll. But I didn't want to leave you guys out – so if this program sounds like something you need right now then you can apply to have a 1 on 1 discovery call with me below.
Before you decide if the program's right for you…just check the below points (as its not for everyone).
Here's who this program is for:
People who want a career change in 2015 but need some direction and help to transition out of their current role and find something they are REALLY passionate about.
Corporates who enjoy aspects of their existing role, yet they feel like something's missing and know they could be doing much more with their lives.
Smart professionals who are eager to do something they LOVE without compromising their financial security.
In The Career Transition Intensive you will learn: ==
How to find a new career that you're 100% passionate about.
How to switch industries and do something completely different
How to easily transition into your new career without compromising your lifestyle or finances
How you can make a good living doing something you're passionate about.
How to give your life meaning & purpose through the next career that you choose.
The courage and motivation to really go for it and create a new future that INSPIRES you
So if this sounds like you then apply below…next week is already almost booked out though so best to book in now if you want a spot:
with love
Zoe B
PS: I LOVE being a wife!!!!
Join 108,000 beautiful souls on the Simple Life Strategies Facebook page to get access to articles before anyone else!