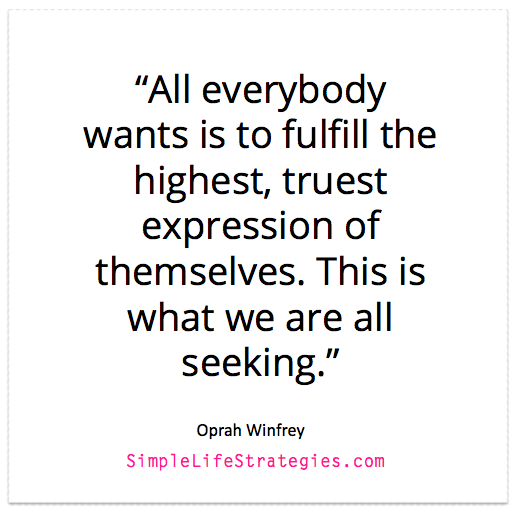 Can I let you in on a secret?
I have a bit of a girl crush on Oprah.
I mean, the woman has achieved SO MUCH in her career and life. And all in the face of such strong opposition.
Did you know that Oprah had her fair share of challenges, especially career-wise?
As a black woman from a desperately poor background, finding her way in a very white, male-dominated industry was tough. Talk about having the odds stacked against you eh!
But it's this rags to riches story that makes you like her even more. That and the fact that she has a grounded, down to earth energy about her. She always seem to know exactly what to do next.
For many years, Oprah struggled against the bigwigs from the corporate TV industry. All the TV Execs cared about was ratings, even if this meant compromising Oprah's values and vision for her TV show.
In the end, she stood her ground and told them 'no' to any more shows that disempowered her guests. No more Jerry Springer-style, high ratings, trash TV. She had bigger things in mind.
In fact, each time Oprah was called to make a BIG career-defining decision, she never swayed. She ALWAYS trusted her instincts over her common sense and she never once betrayed her values.
She attributes her success to the fact that she always 'stayed in her own lane' and played to her strengths, not her weaknesses.
THIS is why I believe she succeeded.
This, along with the fact that she has such an astute understanding of the human condition.
After, interviewing everybody, from serial killers, global pop stars like Beyonce, through to Presidents and successful entrepreneurs, Oprah has experienced a rare glimpse into the human psyche.
As she says poignantly at the end of a one-hour interview with a Stanford University student:
"All everybody wants is to fulfill the highest, truest expression of themselves. This is what we are all seeking."
It's a true story.
All we seek through our work, our relationships, our lives, is to fulfill our potential; to express the best version of us, to embody our inner genius.
Something to think about huh.
So if you have a niggling little feeling that your current work or life is not assisting you to shine as brightly as the diamond that you are, then don't waste another second.
Decide to make a change now.
It's that easy.
And if you're wondering how to get started, I've added a few resources for you at the bottom of this email in the P.S section.
In the meantime, if you'd like to watch the whole Oprah interview then feel free to watch it below. It's honestly one of the best interviews I've ever seen, and it's packed with insights into Oprah's entire career journey, including the highs, the lows and everything in-between.
Plus, it's perfect Friday inspiration
Have an INSPIRING weekend my beautiful ones!
With love
Zoe B
P.S. Ready to fulfill your highest, truest expression of yourself through your work? Here are a few resources to help you 🙂
>> You can join my free online Career Masterclass: Find a New Career in 30 Days >> here
>>Or get my free '6 Easy Steps to Find a New Career' Cheatsheet >>here
Save
Join 108,000 beautiful souls on the Simple Life Strategies Facebook page to get access to articles before anyone else!