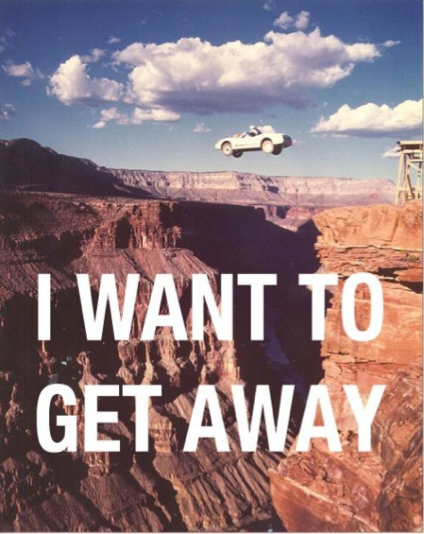 Have you ever had a really crazy week?
One where by the time you reach Friday, your mind is an overwhelmed jumble of chaotic thoughts?
Sometimes when we have a lot on our mind, the temptation is to keep thinking and thinking and thinking in hope of some kind of clarity or solution.
But what actually happens is the opposite – we go into overwhelm and over-analysis.
One of the best things we can do is just get away! Switch off and do nothing for a few days. There really is nothing better than getting away from it all and taking some time out.
So what it is about 'getting away' that can leave us so refreshed? Read on to find out…
Simple
Life

Strategy: 7 reasons why you should get away

1. A change is as good as a rest. Simply by changing your scenery – you'll find you have a fresh perspective on things. I often find myself looking at problems from a different angle.
2. To get inspired. It can be difficult to be inspired when you're stuck in a routine. The days fade into one another and you quickly become bored with life. When we get away, the experience of something 'new' stimulates and inspires us!
3. Remove unwanted distractions. When you're out of your usual environment everyday distractions vanish! Gone is that menacing pile of washing or stack of dishes so you can enjoy some of the fun stuff like relaxing with a good book, having a laugh with friends or having some quiet time.
4. Learn new things. I find when I go away I always learn something new. Especially when I go away with others. There's always something that someone will share that you didn't know before. For example this weekend I stayed on a friends farm and learned how to dress horses in their pajamas before nightfall, how to stop goats from eating your trees and also how to keep a roaring fire going (random things – but new nonetheless!).
5. Interrupt your pattern. I've talked about 'pattern interruptions' before. This is where you snap yourself out of a bad mood by making a sudden change or doing something 'different'. Getting away is the perfect pattern interruption!
6. Create space. Sometimes all our mind needs is a little space. By 'getting away' we can create the much needed space to allow us to think differently.
7. Idea generation. The best ideas usually come to us when we're out and about (certainly not in the office!). You'll find it's much easier to be creative when you're in a new environment.

If you enjoyed this post, sign up now to receive one or two inspiring Simple Life Strategies each week.

Join 108,000 beautiful souls on the Simple Life Strategies Facebook page to get access to articles before anyone else!