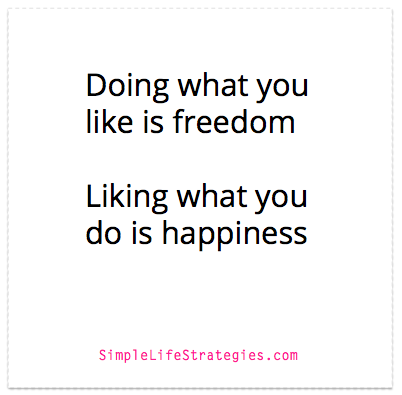 Happy New Year People!
As 2014 draws to a close and we enter a bright and shiny new 2015, it's a great time to get conscious about what you want to create in your career this year.
As a coach, in 2014 I made a conscious decision to bring my focus to help others do work they love – mainly because it's such a HUGE part of life! And I'm all about successful living.
The time we spend 'at work' far outweighs many other aspects of our lives, yet we so often fall into jobs by accident and end up doing work we definitely don't love.
Could 2015 be the year that you decide to change all that?
Now is a great time to pause for a moment and reflect upon your career over the last 12 months.
Strategic questions like these ones can help you to get some clarity on the issue:
Start with the positives:
What did I achieve in my career that I'm proud of?
Which aspects of my career did I really enjoy?
How much meaning did I get out of my career?
How did my career make me feel most of the time?
Then move onto the not so positives:
What did I really dislike about my career?
Were there any aspects that I hated?
Did anything go wrong in my career?
In general how much of the year did I spend enjoying my career vs not enjoying it?
What you'll find is, it will become fairly evident to you if your career has become a less than perfect fit. And these things can happen gradually over time…it's not that you wake up suddenly hating your job, more often than not, our priorities can just start to shift.
If the idea of changing careers feels too overwhelming for you, perhaps start by making a list of 3 – 5 things you would like to change in your career over the next 3 months. Then, if after that period, you're still struggling to enjoy your work it may be time to get serous about finding something new!
Either way know this – it's not that hard to change careers, I have helped many, many people entirely switch industries. It is possible for you – so if this sounds scary then know that plenty of people do this mid-career.
Whereas the norm used to be about having ONE career for most of your life, it's really quite common now for people to have two or three careers, so don't feel like there is something weird about it – or like you have failed at your first career.
In-fact career change is really quite an exciting time! You're about to discover a whole plethora of new opportunities and options that you didn't know where available for you! Is like starting all over again! And I can vouch that all the people I work with really come alive through the process.
If you're feeling ready for a new career but you have no idea what you might want to do, then stay tuned because I have some very exciting developments in the pipeline.
I'll also be opening up my one on one career coaching programs in a few months too (I'm currently not taking on new clients, but you will be the first to know when I have some available spots). In-fact if you want to be on the wait list then you can put your name down here so you're first on the list: Passion Program.
Simple
Life

Strategy: How to Evaluate your Career for Success
Look back at the year that was. What were your general feelings about your career? Positive or negative?
Get strategic with some positive questioning. Consider what you achieved, how much meaning you got out of your career and how your career made you feel?
Now look at the negatives: what did you dislike about your career? What didn't go well? How much of your career did you like vs dislike?
Now look at the balance – overall did you like your career more than you disliked it or vice versa?
Time to take action! Either take a few months to set yourself some new career goals or take the plunge and look for other options. Life is short – don't waste it doing something you don't enjoy!
Tell me – what was the outcome of your career in 2014?  And what do you plan to do differently for 2015?
To your success!
With love
Zoë B
Join 108,000 beautiful souls on the Simple Life Strategies Facebook page to get access to articles before anyone else!