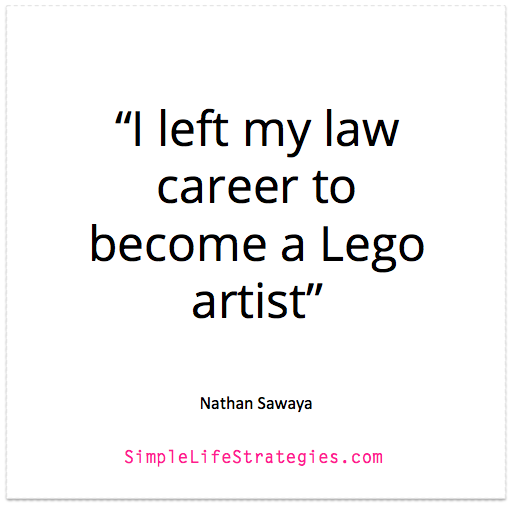 Meet Nathan.
He quit a successful career in corporate law to follow his passion for Lego bricks.
Sounds crazy but it's true.
You might be wondering 'How the heck did he do that?'
Well, like many dream careers, he started off by simply following his passion.
"After a long day in the law firm, I needed some kind of outlet. I would draw, paint and one day I thought maybe I can sculpt using lego bricks!". He says.
Nathan took his passion and created a website so he could show others his art. When he started to get so many visitors on his site that it crashed, he clearly remembers making a decision to go for it:
"I left the law firm behind, to play with bricks full time!"
But it wasn't always a smooth ride. Instead of supporting him on his journey to fulfill his dreams, Nathan was surprised by the reaction from those around him.
"The reaction from friends & family was interesting", said Nathan. "There were some people who were a little negative about it and thought I was crazy."
Like most innovators, it took a while for everybody else to catch on to the genius in what he was doing.
Nathan's journey is an incredible one where he followed his passion, intuition and dreams, and it paid off.
He chose not to listen to the naysayers and instead to listen to his own inner voice and be led by doing work that he LOVED.
This is possible for everyone. Perhaps not always in as dramatic a way as this, but it really is possible.
And as Nathan points out:
"You don't have to find one career path, there are many ways to get to where you wanna go."
So if you have something that you have been doing in your spare time, a hobby or passion that you just LOVE doing, why not do some more of it? See where it leads? Follow the white rabbit down the rabbit hole…you never know where it might lead.
But you won't know if you don't try.
Watch Nathan's story here (it's only 3 minutes long):
Hey, what are your biggest PASSIONS in life? Tell me in the comments, I'd love to know 🙂
With love,
Zoë B
Join 108,000 beautiful souls on the Simple Life Strategies Facebook page to get access to articles before anyone else!
PS Don't have any passions? Oh yes you do. And I'll teach you how to find yours for free in my new Masterclass: Discover Your Key Passions. Simply register for free >>here.
Save