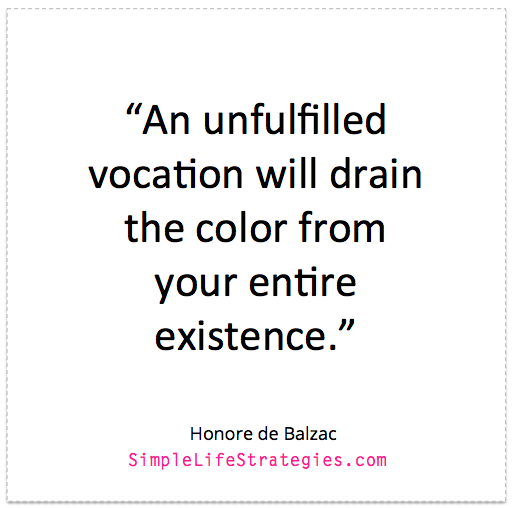 If you're in a job that's not fulfilling you, then you're probably feeling overwhelmed, confused and frustrated.
The problem is, when we stay in an uninspiring job for way too long, our thinking gets muddied.
We start to get confused and struggle to think straight. And worse than that, we often begin to question our own abilities and talents.
Before we know it, we're on a slippery slope towards what I call 'Job Depression.' And once you've got 'Job Depression' it can be very hard to pull yourself out of this hole – usually because by this point you're not viewing your situation objectively.
You'll be beating yourself up because you're not performing well. You'll 'feel bad' because you just can't seem to get motivated at work! And all of this negativity just knocks your confidence which means that the last thing you'll want to do is look for a new job. Because by this point you'll be doubting your own worth as an employer.
So how do we let it get to this?
Well there's simple answer, and as a Career Strategist, I see it time and time again when I work with my private clients.
The truth is, if you're not feeling fulfilled by your work then it's usually because of this one very simple factor.
Wondering what it is?
You're not harnessing your strengths.
That's it.
If you're having a rough trott at work, I would urge you to seriously consider your most time consuming tasks at work. Are these things that come naturally to you? Or do you dread most of them?
Do you find yourself only spending a very small part of your working day doing things that you're naturally good at? Is it a constant struggle to just get your workload finished?
If all of this rings true then it's highly likely that your role does not utilize any of your natural strengths.
You see, we all have things that we're good at. In-fact on some level – we're all geniuses at something. It's just that if we're too busy focusing on the things that we're not good at, this severely knocks our confidence.
Why of course we'll get 'job depression.!' We're not utilizing our god given talents – and in my experience, this is an essential aspect of long-term happiness.
In-fact I would go so far as to say – this is the meaning of our lives: to share our full expression of genius with the world!
You know, your career takes up most of your life. You spend two thirds of your time at work. You better be doing something that demonstrates your light – not your darkness.
And as the great literary genius Honore de Balzac once said:
"An unfulfilled vocation will drain the colour from your entire existence."
So I would urge you today to consider your inner genius because this is the key to fulfilling work. What do you just LOVE doing because it comes effortlessly to you?
There will be something – and this something is what you should be doing with your life.
It's that simple.
Tell me about your inner genius? What do you LOVE doing? I'd love to hear from you in the comments below.
With love,
Zoë B
PS: Want more free career resources? Register for my free 1 hour career Masterclass to gain access to a free online career tool. This training will help you get 100% clarity on what you really want to do next with your career. Register for free now. Register >>here.
Join 108,000 beautiful souls on the Simple Life Strategies Facebook page to get access to articles before anyone else!