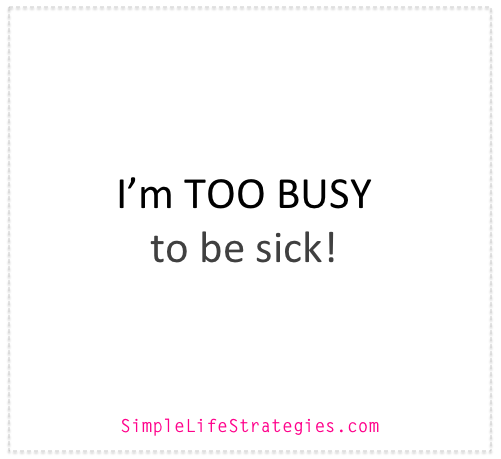 So it's been 2 weeks since my last post.
It pains me to say that.
I've been blogging for over 2 years and I've published every single week without fail.
Every. Single. Week.
And then I got the flu.
Well actually, I got sick 3 weeks ago and just pushed through it for a few weeks.
Until my body literally forced me to stop.
I have to admit of all the challenges in life, knowing when to rest is my biggest challenge.
It's funny how in the Western world, health comes a distant second to work. We completely ignore our health so that we can show up for work, give it our best, hit those deadlines.
But really…something's gone askew here.
Without health, what are we?
What do we have?
And so this time, when I got sick, I avoided the temptation to just do a quick blog post, or just quickly check my emails and instead I trusted that everything would be ok if I took a few days off.
Novel idea I know!
The timing has been less than ideal.
My new website (Excitement) is set to launch next week…I'm up to my eyeballs in deadlines and yet something strange has happened.
Even though I took a whole 3 days off, I'm somehow not behind.
Which leads me to wonder….when we worry about the world stopping when we get sick…is it all in our minds?
What impact will it really have – if you were to take a few days off?
And could this even contribute to more productivity in the long run?
I have to say, having literally not moved for 3 days, I feel somewhat refreshed, revitalized and (almost) full up again.
I feel ready to take on the world again!
So, my challenge and I extend this to you too, is to change the way I view rest.
It's not a luxury.
It's not being lazy (yes I often have that thought)
And it's definitely not going to have a huge impact on things in the long run.
In-fact – quite the opposite:
Rest is essential – if we don't have our health then how can we do any work?
Rest is productive – by filling back up the tank we will achieve more once we're well.
And – rest has a positive impact on our long-term goals. It gives us the benefit of a clearer mind and better decision-making.
And if you don't believe me then check out Arianna Huffington's book 'Thrive' where she gets into the research behind the importance of rest.
Believe me – although it may feel like 'resting' is unnecessary – it's really a crucial aspect of living that has somehow got a bad rap.
I envision a world where one day – resting will be admired.
Where we will respect each other for taking the time to put some fuel back in the tank.
And where 'over-work' is no longer revered.
And so, I'll continue to explore this new concept of rest.
I know that it will probably be a struggle at first.
But awareness is always the first step.
So if you will – join me and block out some rest-time over this coming weekend.
It doesn't matter what you do as long as it will recharge you.
You could have an Epsom salt bath, a massage, some acupuncture or just read a magazine or watch your favourite show.
Whatever works for you – take the time to add 'rest' to your weekly 'to do' list.
You won't be sorry…
You'll be rested and ready for action!
Simple
Life

Strategy: what to do when you're too busy to get sick
Change the way you view 'rest' or 'sickness'
Know that the world won't end if you take a few days off
Remember that rest in all forms is essential, productive and will aid your long term goals
If you do get sick, know that everything will still get done and the most important thing is that you switch off and allow your body to heal
Start to schedule in regular periods of rest each week to ensure you're health is taken care of
If you know someone who 'NEVER RESTS' – please do them a favour and share this message with them. It could really help their health.
Oh and tell me – what do you do when you get sick? I'd love to hear your thoughts in the comments below.
Thanks for listening.
With love
Zoe B
PS – are we friends on facebook yet? If not, head over to Simple Life Strategies, hit like, and I'll share insights & research to keep you inspired each week 🙂
Join 108,000 beautiful souls on the Simple Life Strategies Facebook page to get access to articles before anyone else!