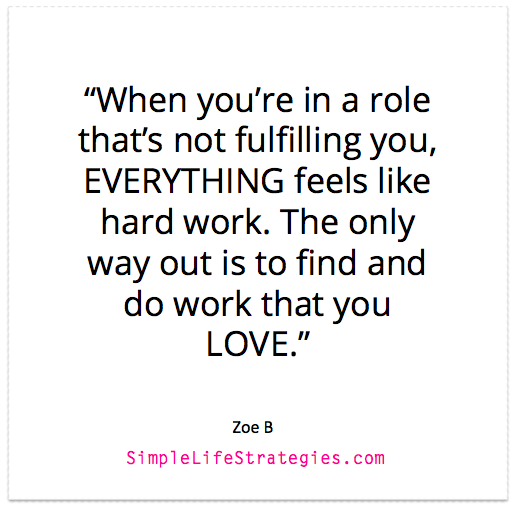 So you want to change careers but there's one very big hurdle holding you back.
You're just not qualified! I mean how on earth can you change careers when you only know how to do your current role?
I get it.
Changing careers can feel really daunting and overwhelming.
It feels like you're at the bottom of Everest without a map!
The good news is, you don't necessarily need a whole tonne of experience or qualifications to change careers.
In-fact, traditional qualifications are becoming less and less of a requisite and more people than ever are changing careers multiple times throughout their lives.
As Thomas Edison once said: "Genius is 99% perspiration, 1% inspiration."
The truth is, qualities like resilience, tenacity and hard work are often more important than qualifications when it comes to changing careers.
And before you shirk away from some good old hard work, consider this – if you're currently in a job that isn't fulfilling you, then you're already having to work hard right?
When we're in a role that's not drawing on our natural strengths or allowing us to play form our zone of genius, this is when EVERYTHING feels like hard work.
Have you ever noticed that? How when you're doing something that doesn't come naturally to you there is SO MUCH struggle?
The reality is, the only way to eliminate ongoing struggle from your work is to find and do work that you really love; work that allows you to express your natural talents.
And so…we're back to changing careers again aren't we?
I guess the point I'm trying to make here is that, YES it will be hard work to change careers, but nowhere near as hard as staying in a job that you hate for the rest of your life. So I guess the choice is yours ☺
OK pep talk over. Now onto the practicalities…so how the heck do you change careers with zero experience or qualifications?
Here are a few simple tips…
Simple
Life

Strategy: How to Change Careers When You Have No Experience
1. Define your zone of genius
If you're going to go to the effort of changing careers then it's super important you choose something that aligns with your natural strengths. So it fits then, that you need to know what these strengths are! Definitely start by identifying your strengths and your unique ability. We all have something that we can do really well, that others struggle with. The challenge is to find yours!
2. Find Careers that match your zone of genius
Next you need to find career options that align with your natural strengths. In my Career Change program, I share alot of online tools and databases to help you find out about careers that you didn't even know existed! It's a great way to get excited about new options and find new careers. (if you'd like to use one of these online tools, join my Find a New Career in 30 Days Free online Masterclass where I walk you through exactly how to use my favourite career database tool for free. This tool helps you find out about tonnes of new career options. You can register >here.)
3. Choose one career option and get educated
Once you have found a career that aligns well with your natural strengths and passions then it's time to dive a little deeper. You need to find out what skills and experience is necessary within this role. Look online for job descriptions or interviews with people who have worked in this field. Then find examples in your own background that match (note: for example if you wanted to switch over from being a project manager to becoming a freelance writer – you would simply find examples where you had been a writer in your project manager role).
4. Create the experience yourself!
Don't have ANY experience whatsoever in the career you want to get into? No problem! Then it's time to create some. Simply try getting the experience for free in evenings or weekends. Some examples:
• Want to be a writer? Start a blog or offer to guest write for online publications
• Want to be a relationship coach? Offer to coach a few friends for free on the weekends to see how well you can help them
• Want to work in TV? Offer yourself up as an intern on weekends
• Want to work in the health food industry? Start your own market stall on the weekends and sell your home baked health foods.
• Want to be a personal trainer? Offer to train a few friends on the weekends first and see what results you get
Not only does this give you experience in the field, it also gives you a chance to test-drive the career to see if you like it before you jump!
When I first arrived in Australia (from England) with only one year experience in Advertising looking for a sponsorship visa, I was initially met with a lot of resistance. The first recruiter I met with actually told me to book my flight home because I simply didn't have enough experience. Did I book that flight? Hell no! It spurred me on to prove her wrong! What I did was offer my services FOR FREE so that the ad agencies could try me out before they sponsored me. Not only did this show my passion and enthusiasm for the business, it also showed them that I was tenacious and confident in my abilities. Guess what happened? I got hired, sponsored for 4 years and even got a promotion to the next pay bracket!
5. Consider a short course
Don't throw the baby out with the bathwater. While you may not want or need to go back to University, many career changes require a short course to get you qualified enough to get started. This is OK though, and often these courses can be taken part time alongside your existing role. For example one of my private clients decided to move into HR from project management. All he had to do was a short conversion course to qualify and he's now happily working in HR. So be sure to find out if you can take a short course to help you become more qualified.
And there you have it – a few easy ways you can change careers even if you have ZERO qualifications!
Honestly, what I've shared with you here is just a slice of what's required to change careers so if you want to know the whole shebang, then be sure to come along to my Free Online Masterclass: Find a New Career in 30 Days. Due to popular demand, I'm running them again and if you missed them last time, you can register >here.
This free Masterclass is an opportunity for you to take the first step towards changing careers, so why not take it (instead of ruminating some more about what to do next!).
And if you have friends or family who are miserable in their jobs then definitely invite them along too! The more the merrier ☺
I would love to know in the comments below what career you have always dreamed of doing? Share below!
LOVE
Zoe B
Join 108,000 beautiful souls on the Simple Life Strategies Facebook page to get access to articles before anyone else!
Save
Save
Save
Save