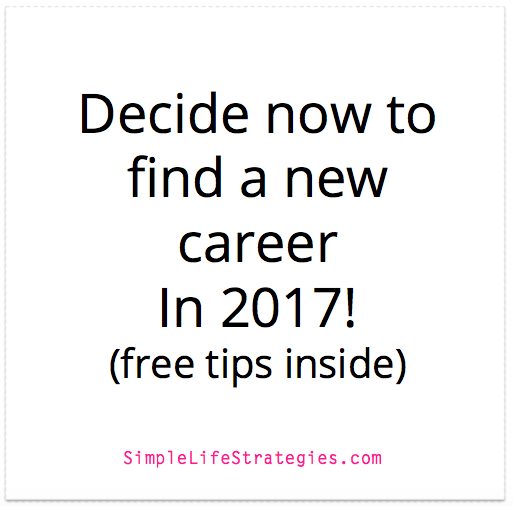 Wooohooo you made it! 2017 is officially HERE.
So, I've got a question for you.
How's it going?
2017 I mean.
Did you skip into work this week feeling super excited to get stuck into things?
Or did you drag yourself in by the heels dreading the week ahead?
If it's the latter, then what are you going to do about it?
I mean, let's face it. Your dream job ain't gonna just fall into your lap now is it?
It requires action. And tenacity and a certain amount of fearlessness.
Which is where I come in.
At the start of the year I promised to do all that I can to help YOU to find your dream career in 2017.
And I really mean that.
I have alot of amazing free things coming your way over the next few months, so be sure to stay tuned to your inbox.
Because that dream job is closer than you think.
But we need to work together to make it happen.
Want to know the easiest way to stop dreading your day job and feel excited about life again?
It's simple.
Hatch a plan.
When you have a plan to get you OUT of your crappy job then things start to feel more bearable.
You start to experience hope again.
And when we have hopes and dreams, we can handle anything.
So…I thought it might be helpful to put together a few FUN tips for you to start planning a new career in 2017.
That's right I said fun.
Because finding your dream career doesn't have to be hard.
You are allowed to have fun you know.
And I find the lighter your attitude, the easier it is to get creative and find lots of ideas.
So let's get started shall we?
We have alot to accomplish this year 🙂
5 Fun Tips to Plan a New Career for 2017
Dare to DREAM. That's right I said it. You're allowed to daydream about what else you could do for a job. In-fact this is often how we get inspired to take action. So when you're on your way into work instead of spending that time dreading what's ahead of you, dream up what you wish you could be doing instead? I mean, what is your dream job? Do you even know? Allow yourself to ponder this thought and get excited about all of the possibilities out there. The point is – you need to switch your thoughts away from what's NOT working n your career and towards what COULD be working…ie all of the infinite possibilities that exist for you.
Consider your transferable skills. Pick a time to host your very own brainstorm! Spend just 30 minutes thinking about all of the skills you've learnt form your existing job and your career path before that and jot them all down on a piece of paper. You might be surprised about how much experience you actually have!
Get a list of new industries or careers together. Once you have a list of transferrable skills, think about which other careers or industries you could apply those skills to? Create a short list of ideas…but don't get too stuck on if you would definitely want to do any of these jobs, just get some ideas down. You can figure out later on if you really want to pursue any of these areas.
Focus on your passions. We all have things that excite us, that light us up! Whether they are hobbies or just plain interests, when we're immersed in these activities, we generally feel light, inspired and in the zone. Spend 20 minutes thinking about what these passions are for you? What do you love doing? What do you spend your spare time doing? And how could you turn any one of these passions into your dream career in 2017?
Learn more about your favorite industries. If you have a feeling that you would like to work in a certain industry (ie fashion or film for example) then immerse yourself in the industry to see if you really like it! Start off by signing up to receive newsletters or read regular blog articles about that industry. This will help you to get an inside look at what the industry is all about, what types of people work in that industry and the work that's involved. It will also highlight regular challenges of the industry as-well as the highlights. No idea where to find these newsletters? No problem. Either run a simple google search using any of the below the terms:
'Top 5 <insert your industry word here> newsletters" (ie Top 5 fashion PR newsletters)
"Top 10 <insert your industry word here> blogs you should be reading" (ie Top 10 science blogs you should be reading)
"5 Must Read < insert your industry word here> e-newsletters" (ie 5 Must Read business e-newsletters)
You can also browse SmartBrief to find a list of the top global e-newsletters across all types of industries.
So there you have it.
I really hope these 5 tips help to get you off on the right foot in 2017.
Because what I really want for you is to stop focusing on your dead-end job, and feeling drained by it – and instead to choose to focus on what else is out there for you.
I really want 2017 to be YOUR year.
So why not stop whatever you're doing right now, and schedule some time in your diary to do all of the things listed above.
I always joke with my Find a New Career in 30 Days Program students – if it's not in the diary, it doesn't exist!
And it's so true. The first step is to schedule these activities and then to simply show up and do them!
And if you can….also have a little fun in the process.
Tell me in the comments below the post, which of these 5 tips resonated with you the most? And which one will you do first? Or even better, share with me what career ideas you came up with after going through the activities? I'd love to know.
With love,
Your career cheerleader,
Zoe B x
Join 108,000 beautiful souls on the Simple Life Strategies Facebook page to get access to articles before anyone else!
PS – know someone who wants to change careers this year? Forward this blog post to them! You could even meet up and do the activities together to keep each other accountable.
Save
Save
Save
Save
Save