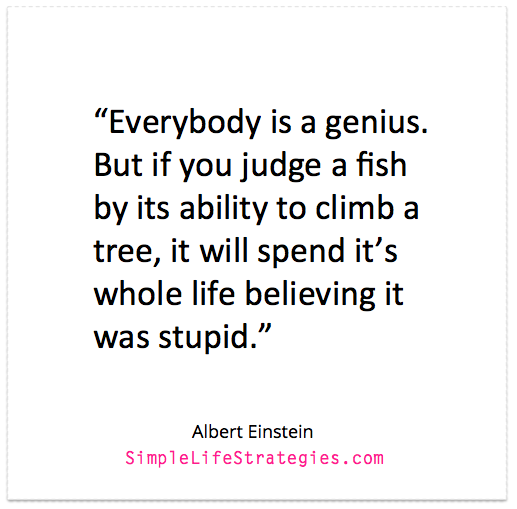 I've had a fair few careers in my time. Maybe you have too?
I once worked as a silver service waitress. I distinctly remember pouring piping hot gravy on a customers lap by mistake once. Damn was he not happy with me.
Another time I did door-to-door sales when I was backpacking in Australia…got called every name under the sun and had plenty of doors slammed in my face!
And then there was that time I did grape picking and got fired after 2 days! Ah the things we do eh.
It took me a while to figure out what I really wanted to do with my career, but all the while there were clues. Little nuggets I learned from each job.
I have to say though, one of the biggest AHA moments I had was this:
If it's an effort to fit in, then this probably isn't the one for you honey (your dream job I mean).
If I look back at all the jobs I totally sucked at, I can clearly see this pattern – I always felt like I had to try to fit in; it was an effort.
This was definitely the case with Advertising – I mean there were elements where I fitted in…I always gelled with the creatives, but in the boardroom? I was like a fish out of water there. I always felt on edge. The whole corporate life was just never really ME.
And I guess this is the point – when something IS you – you just know it.
Can I tell you what I love most about my business now?
I get to work in my yoga gear…or pajamas…or bikini (which is what I'm wearing right now as I type this in sunny Bali).
I get to work from wherever the hell I want (aka Poolside in Bali).
I get to work the hours I want (if I'm not feeling it, I'll take a break and watch Netflix for a bit).
And all of this just feels so natural to me!
I never liked hiking in to work in 6 inch heels and tight fitting office attire.
I never liked being chained to a desk for 10 hours a day, not able to move my body around at all.
I never liked having to work from an office 24/7, it just felt constrictive to me.
And all of these things I never liked were signals that this just wasn't the place for me. I'm way more comfortable in a pair of yoga leggings and flip flops.
Now that makes me feel FREE!
So I guess what I'm trying to say is that you have to listen to those little nuggets when you get them. And don't get me wrong – there are plenty of people who absolutely LOVE all of those things that I hate.
Some people get off presenting to 12 people in a boardroom! Some people just love getting dressed up to go to work and the buzz of the commute.
There really is no right or wrong answer, only what's right for YOU.
But look out for those little moments where you feel like a fish out of water.
As Einstein once said:
"Everyone is Genius. But if you judge a fish by it's ability to climb a tree, it would spend it's whole life believing it was stupid."
Whenever my husband tries to explain the numbers of my business to me, I always jokingly say: "I'm like the fish trying to climb a tree!".
Ie. This is NOT my zone of genius, Numbers is not where I fit in. I feel like I'm in another country and don't know the language! Better to leave that to someone else.
So know this. If you feel like you don't fit in right now then that's ok. That feeling is just a torch pointing you in another direction. It means that you DO fit in somewhere else and all you gotta do is find that place.
And trust me my friend, if you keep looking, you will find it.
Tell me – in what situations do you feel like a fish climbing a tree? ie totally out of your depth and not in your zone of genius? I'd love to hear in the comments below.
With Love
Zoe B
Join 108,000 beautiful souls on the Simple Life Strategies Facebook page to get access to articles before anyone else!
Save
Save
Save