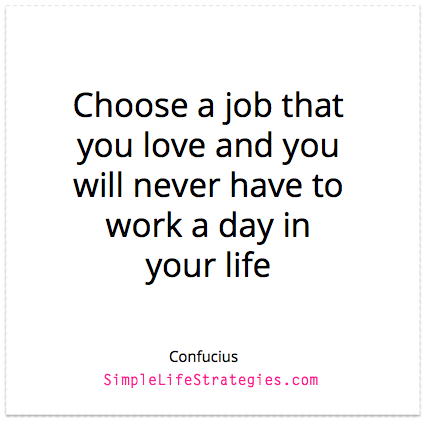 I was chatting to Jane – a senior marketing professional the other day.
And something struck me.
She was telling me all about her current work situation and what was troubling her.
You see – she was having problems with her manager and this was clouding her thinking.
She just couldn't figure out if it was the manager that was the problem – or if it was the job its-self.
She'd found in recent months that there were aspects of her role that she didn't enjoy and she wasn't really that good at. They just didn't come naturally to her.
And this was really getting her down.
There's nothing worse than feeling inadequate at your work.
And careers can be confusing. For Jane, the constant confusion around her job, her skillset and the manager was driving her crazy.
When we're in a career that we don't really love it can be really hard to get clear about what the exact problem is.
Because there are so many factors to take into play.
That's why I leaned on my 12 years in strategy and made it my business to create a strategic process to help people like Jane.
And if you're in a similar situation, I'd love to help you too.
I've put together a free cheatsheet that explains the exact system that I use with my private clients who are questioning their career paths.
>>The Six Step Formula to Find a New Career in 30 Days
There are six steps in the system and in the cheatsheet I take you through exactly how each one works – so you can start to make some changes yourself today.
This is the exact system that I followed myself when I transitioned out of 12 years in corporate advertising and into a new career that I love.
As I told Jane – everyone deserves to have a career that they love! Something that allows them to express their true talents & skills. Paying the bills just isn't enough.
So why not make a start today by going through the cheatsheet, I made it just for you.


With love
Zoe B
PS: I'm also going to be offering a free live training event soon where I teach you exactly how to switch careers, so look out for an email from me about this soon.
Join 108,000 beautiful souls on the Simple Life Strategies Facebook page to get access to articles before anyone else!