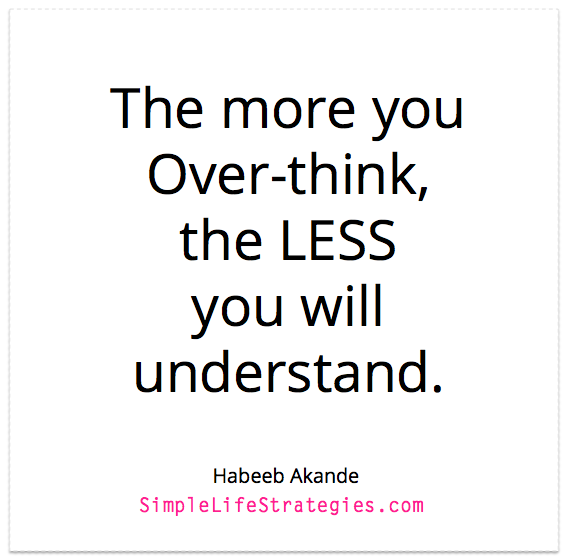 On the weekend I took a well-deserved break to go to the Blue Mountains with my new hubby (excitement!).
I just love the clean, mountain air up there. It really gives you time to think about the big things in life.
Sometimes though, thinking is the last thing we actually need…and what I've found through working with my private clients is that it can be a trap that's easily fallen into.
If you've ever been in a situation where you want to do something different with your life, but you're not sure exactly what, then thinking can be your worst enemy.
You see, all the thinking in the world can't answer that question for you. It's action that does that.
I remember back when I was running my marketing agency in the thick of the corporate world and I wanted to get out and try something new. No joke – I probably spent a good few years thinking about what I might do next.
I'd go on long walks pondering what to do, I'd brainstorm hundreds of ideas on the beach and I'd ask people around me what they thought I should do next.
And yet, all of these things got me nowhere.
In fact, I would often wind up feeling more confused after these long thinking sessions than I did beforehand!
What I realized was the more I thought about it, the more overwhelmed I became.
And it was at this point that I decided to take action.
I banned myself from over-thinking (analysis is paralysis after all!) and I looked for some outside assistance.
Not from friends or family – because I knew that I needed to speak to someone who had already been through the same situation that I was in. I also knew that what I needed was a process to kick my butt into action!
And so, what with my decade of strategy work behind me, I set about creating a strategic process to get me out of the work I was doing and into something that I truly loved.
Don't get me wrong – I spent a lot of time researching theories from other experts in the field at this stage (as-well as pulling together my own thoughts) and I worked with a number of mentors and coaches too.
But I have to say the single most important thing that I did was to do away with the belief that "If I keep thinking about this, the answer will come to me!"
Because let me tell you – that's not how it works.
In a few weeks, I'll be opening up a private online workshop where I'll be sharing some of the other things I learned on my own personal journey out of a corporate world I no longer resonated with and into a new career that I love.
I hope to see you there – I'll make sure you get an invite.
In the mean time, I do have a few last spots available for one on one mentoring with me. This is only for you if you're 100% ready to take the action I mentioned before and commit to actually doing something about finding a new career. Don't leave it two years, like I did!
If you would like to work with me, you can book in for a complimentary career coaching call where we'll discuss your career goals for 2015.

And if you're not ready to make the leap just now, that's OK too. But whatever you do – make a decision to leave those over-thinking sessions behind and take some action today instead. J
Simple
Life

Strategy: How to Stop Over-thinking Your Next Career Choice
Take stock of how much you're currently thinking about your next career move
Be honest with yourself – do you have a tendency to think and think and think about it until you end up in a big hot mess?
If the answer is yes, decide right now to STOP THAT!
Instead – look to take action towards finding a new career
Find ONE small action step that you can take right away to get you closer to finding that next career
If the time feels right, I'm right here waiting for your call. Simply book in some time with me below.

Now you have a wonderful weekend! (and if you know someone who's looking to move careers, I'd be more than happy for you to extend the invitation for a chat),
With love,
Zoë B
Join 108,000 beautiful souls on the Simple Life Strategies Facebook page to get access to articles before anyone else!