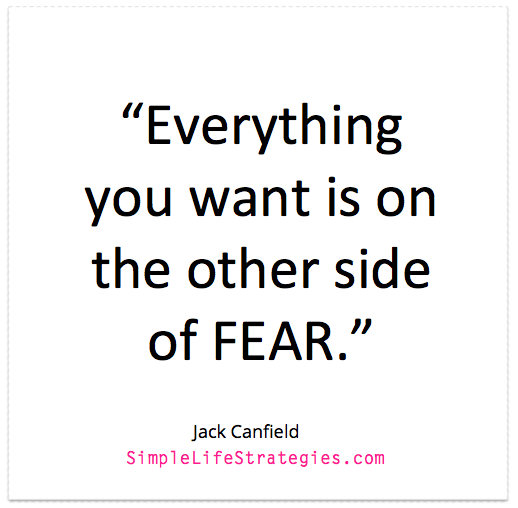 These last few weeks I've been dealing with some pretty intense fears.
I'm not afraid to admit that I'm only human and fear rears it's ugly head in my life too.
What about you?
Is fear playing a part in your life right now?
And how's that going for you?
I see fear a lot when I'm working with people who are trying to change jobs.
They very rarely call it 'fear' – but it's usually the one thing that stops them from moving forward.
It seems we're conditioned to fear anything that's new or different. Any kind of change in our life.
And yet – change is a part of life that we can't avoid.
I often wonder how many people are living lives of quiet desperation (someone famous said that – can't remember who) all because they couldn't get past the fear?
Lots probably.
Well, I've noticed a few things about fear over the last few weeks.
The first thing is our reluctance to feel it.
There is so MUCH goddamn resistance and dogma around fear.
First up, it's pretty much viewed as a sign of weakness if you admit to anyone that you're scared or experiencing fear.
Yet we ALL feel it.
Weird right?
I think this is part of the problem.
No one wants to admit it, so we bury it away and deny it's own very existence.
The problem with that is – the more you hide it, the stronger it gets.
It kind of percolates like a strong coffee.
Have you ever noticed that?
Not the coffee bit – but the hiding of it?
Well I did a little experiment last week.
Instead of avoiding my fears, I decided to just feel them fully.
Let me tell you – it wasn't the easiest thing I've ever done!
I guess we ultimately want to keep ourselves safe from those nasty feelings of fear.
Its some kind of protective mechanism.
I did notice something…
The more I focused on the fear and specifically where I could FEEL it in the body, the more it seemed to dissipate.
I was shocked by how physical the feeling was.
And as I allowed myself to 100% feel every aspect of the fear in my body (for me it was mostly in the stomach area), something strange happened.
It went away.
And it occurred to me that the fastest way to dissolve our fears is to accept them.
Fascinating stuff huh?
I wonder – where do you feel your fears in your body?
Are you even aware that they are there?
If you're feeling like fear is holding you back in some area of your life, then maybe have a play with this technique.
I'd love to hear how you go!
Simple
Life

Strategy: How to Stop Fear from Holding You Back
Get quiet for a few minutes and bring your awareness to your fears
What are they?
Instead of resisting them, get quiet for a moment and feel into them
Really feel the fear as a physical sensation in the body
Keep doing this for a few minutes until the physical sensation shifts and the feelings are no longer there (or at least are less intense)
Next you may want to write a list of ways that you could overcome this fear (if it ever happened)
And finally take some action! Do what you've been avoiding. Take the leap!
Is life worth more to you than your fears? If it is, get stuck into these steps right now!
Let me know how you go in the comments below.
With love
Zoe B
PS: Did you notice how most of our fears never come true anyway? So what you waiting for? Today's the day.
Join 108,000 beautiful souls on the Simple Life Strategies Facebook page to get access to articles before anyone else!