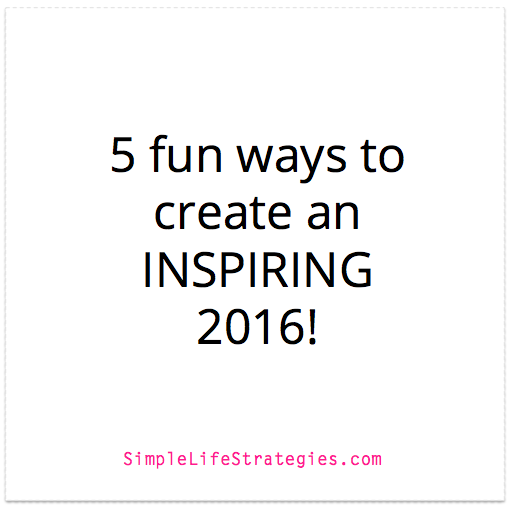 As we enter the New Year, it's a great opportunity to clear the slate and start afresh.
However, for most of us, any New Years Resolutions we make now are nothing but a long distant memory by March…(ahem I've been guilty of this in the past too).
So, this year I want to help YOU ensure you really stick to your New Years resolutions and put them into action! (and maybe I will too this year :))
Here are a few fun ideas for you. By all means only choose the ones that resonate and ignore the rest 🙂
1. Learn one new completely useless thing!
I don't know why we do this, but us humans have this weird habit of only doing things that are 'sensible' or 'useful.' But where's the joy in that? What if I was to say to you that this year you should learn something new that is completely USELESS and won't help your life in any practical way whatsoever? What a great idea huh. You know, we're ALLOWED to have fun in this life. So, choose something that you have always wanted to learn that is completely random and superfluous to your life's activities and pursue it with passion and reverence. And who knows how it might come in useful at some point later on in your life.
You know, when Steve Jobs was at University and chose to study Calligraphy he didn't do it for any practical purpose. He did it simply because he was interested in it. He loved the beauty and artistry of it! Little did he know that years down the track, this course would prove a vital component of Apple's success when he developed the distinctively stylish user interface that Apple is known for.
So choose to learn something incredibly useless in 2016 just for the sheer hell of it!
 2. Read that book you've been meaning to read for ages.
In my opinion reading has become a lost art. There so many devices in our lives now, that books get thrown on the 'I'll do it later' pile. And yet, I have had most of my AHA moments in life from reading incredibly inspiring books. Why not give yourself a goal to read at least ONE of those books you've been meaning to read for ages. You never know, it might just change you life. Here are a few of my favorite reads from 2015:
Big Magic by Elizabeth Gilbert. A look at how to live creatively beyond fear.
The Island by Aldous Huxley. An introduction to Huxleys utopian 'Island' based on spiritual principles.
One Moment Please! It's Time to Pay Attention. By Susan Pearse & Martina Sheehan. Very well researched account of how 21st century living is stealing our most precious resource: our attention.
Ethical Ambition: Living a life of meaning and worth by Derrick Bell. I think the title pretty much sums this one up! Amazing read 😉
Why Mindfulness is Better than Chocolate by David Michie. A wonderful book packed full of mindfulness practices for inner peace, enhanced focus and deep happiness.
Einstein; His Life and Universe by Walter Isaacson. Fascinating biography of Albert Einstein.
Dear Theo: The autobiography of Vincent Van Gogh by Irving Stone. Riveting account of the real life letters exchanged between Van Gogh and his brother.
The Power of Now by Eckhart Tolle. This is actually the second time I've read this. Very worth the second read! Includes practical steps to encounter more peace in your life by staying present.
And I could go on and on…ooops! Better cap it there hey.
3. Plan regular digital detoxes
Is anyone else totally overwhelmed by the amount of technology we have to encounter on a day-to-day basis? I am! At times I get to the point where I just can't face looking at ANOTHER SCREEN. Or maybe that's just me? Either way, I believe that it's important to have some time out from these devices. So, maybe 2016 is the year where you plan to take a little digital detox every now and again to save your sanity if nothing else!
4. Write a bucket list and tick off at least 3 things this year.
I love the idea of a bucket list. All you do is grab a pen and paper and note down all of the things you always wanted to accomplish before the end of your life. Don't stress about it, just note down what comes to mind and then choose 3 options to tick off your list before the end of 2016. And then go do them! It's really that simple J
 5. Go somewhere you've always wanted to go.
I just LOVE travel. And last year I was lucky enough to go on an EPIC honeymoon (or megamoon as I called it) all throughout Italy and France. This trip was so good it bordered on ridiculous. I had ALWAYS wanted to go to Italy and it felt SO GOOD to finally do it. So where have you always wanted to go? The world is such a beautiful place and there really is nothing stopping you from exploring. Just a little bit of planning and saving means you're dream holiday could be just around the corner. And travel is just SO INSPIRING isn't it?
I'd love to hear how you plan on making 2016 your most inspiring, FUN year yet? Tell me in the comments below?
With love,
Zoe B
P.S. Looking for a new career? Stay tuned next week for my free Career Change Masterclass. You're so invited.
Join 108,000 beautiful souls on the Simple Life Strategies Facebook page to get access to articles before anyone else!